The Goshen College Record named Newspaper of the Year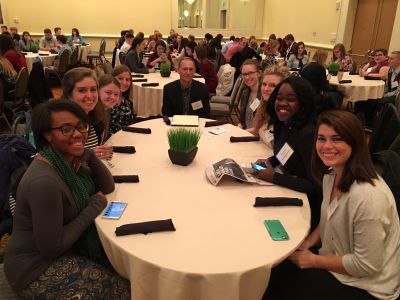 The Goshen College Record claimed 28 Indiana Collegiate Press Association (ICPA) awards, including "Newspaper of the Year," in a competition among Indiana colleges.
Staff members from The Record collected the awards in Indianapolis on Saturday at the annual ICPA conference. The Record competes in Division III, for colleges and universities with an enrollment under 3,000.
The awards recognized Record staff from the spring of 2015, when Kayla Riportella, a senior English major from Des Plaines, Illinois, served as editor, and the fall of 2015, when Grace Weaver, a senior English major from Harrisonburg, Virginia, was editor.
"These awards reflect the dedication and excellent work of dozens of students, who combine their talents in the newsroom each semester," said Duane Stoltzfus, professor of communication and adviser to The Record. "We were fortunate to have two exceptional leaders in 2015, in Kayla Riportella and Grace Weaver."
The first-place awards included:
Second-place awards:
The 12 issue, Best Single Issue. The judges wrote: "The Record's strength is its voice. It's smart and conversational. A good mix of news, features, sports and surprising, fun content. They use multiple story-forms. From a tick-tock look at a die-hard Al Roker's fan day when Al came to visit, to the 'Out of context professor quotes,' this issue is lively and engaging."
Katie Hurst, Best Overall Design, for the 12 issue.
Karina Flores, a junior from Goshen; Ashley Davenport; and Liz Tecca, Best In-Depth Story, for stories on the voter registration drive in Goshen.
Maddie Birky, a junior from Goshen, Best Continuous Coverage of a Single Story, for her fall series on Goshen's membership in the Council for Christian Colleges and Universities.
Hannah Sauder, Best News Photo and Best Feature Photo.
Miranda Schlabach, a 2015 graduate from Tucson, Arizona, Best Sports Photo.
Third-place awards:
Grace Weaver and Danielle Kershhackl, Best In-Depth Story, for articles on the incoming and outgoing mayors in Goshen.
Danielle Kershhackl, Best Sports News Story, for a report on the retirement of Linda Kaminskis, the athletic trainer.
Elsa Lantz, a first-year from Denver, Sports Features, for an article on Anja Kenagy, a first-year student who also happens to be a Junior Olympic fencer.
Sadie Gustafson-Zook, a junior from Goshen, Best Review, for "Mis-Cast Cabaret is gender-spectacular."
Katie Hurst, for Best Special Section Front for "Goshen Election 2015 (Oct. 29, 2015).
Hannah Sauder, Best News Photo.
Reuben Ng, a 2015 graduate from East Lansing, Michigan, Best Editorial Cartoon, for "Comics about the Solar System."
Overall, The Record collected 57 points; in second was The Bachelor of Wabash College, with 52 points; and in third, The Andersonian of Anderson University, with 27 points.