First-generation student earns 'Realizing the Dream' award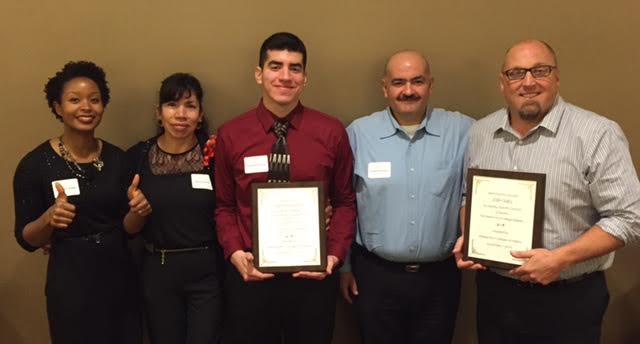 Valentin Calvillo is working hard to realize his dream of becoming a doctor. Calvillo, a Goshen College sophomore molecular biology/biochemistry major from Goshen, was among a group of first-generation students from Indiana's independent colleges and universities to be celebrated at the 26th annual "Realizing the Dream" banquet on Nov. 7 in Indianapolis.
Made possible by a grant from Lilly Endowment Inc. to the Independent Colleges of Indiana (ICI), the banquet recognized students from ICI campuses who are the first in their families to attend college, along with their inspirational teachers and families.
A graduate of Goshen High School who commuted to class during his first year at Goshen College, Calvillo now lives on campus and serves as a resident assistant. He is also a member of the Student Senate, the Latino Student Union and works off campus, all while staying on top of his rigorous class schedule.
"This award helped me realize that I am capable of much more," Calvillo said. "The opportunity to attend college will change and shape my life, which is something that neither of my parents had."
Calvillo and his fellow awardees each received a $2,000 scholarship to help with college costs, and each student's chosen "most influential" teacher or mentor received $1,000. Calvillo selected his Student Resource Time teacher at Goshen High School, Josh Duell, whose energy, attention to students and weekly stories inspired Calvillo to push himself.
"Josh had always encouraged me to keep up the good work and would often tell other students to be a more like me, a hard worker," Valentin said. "He loved what he was doing, and I think that being surrounded by someone who has that charisma can be influential."
One of the reasons Calvillo chose Goshen College is that he would like to go to medical school to become a surgeon.
"I liked that Goshen College has a really good pre-med program, which has high rates of getting students into medical school," Calvillo said. "I would also like to get involved with some type of international organization, such as Doctors Without Borders, in order to help those who need help."
Goshen College faculty nominated Calvillo for his outstanding academic and extracurricular achievement in his first year at college.
"Valentin exemplifies excellent leadership, perseverance, strength and hope," said DaVonne Kramer, coordinator of retention and intercultural student support at Goshen College.