Experience the magic of environmental education at Merry Lea's Enchanted Forest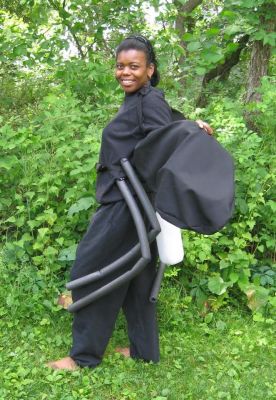 Event: Enchanted Forest and El Bosque Encantado
Date and time: Friday and Saturday, Oct. 23 and 24, from 7 to 8:30 p.m.
Location: Merry Lea Environmental Learning Center of Goshen, Farmstead site
Cost: $2.50 per person
---
A magical fall evening of hiking in the dark awaits children and their companions at Merry Lea Environmental Learning Center of Goshen College on either Friday, Oct. 23 or Saturday, Oct. 24. Guests are invited to drop in at the Farmstead Barn Site between 7—8:30 p.m. for the 26th annual Enchanted Forest.
The Enchanted Forest program features a guided night hike along a route where costumed environmental educators wait to describe the joys and challenges of life as an animal. This year's line-up includes a skunk, an owl, a firefly, a frog, a toad, a snapping turtle and other animals native to Indiana. The animals describe their lifestyles, favorite foods, fears and habits. Discover what happens to frogs in winter, what makes a firefly glow and how the American Woodcock wins a mate.
The event is especially for children from K to 3rd grade, but all ages enjoy the animals and the chance to hike in the dark. Before and after the hike, families gather in Merry Lea's Farmstead Barn for musical entertainment, hot chocolate and snacks.
Merry Lea Environmental Learning Center of Goshen College is a 1,189-acre nature preserve located in central Noble County, midway between Fort Wayne and Goshen. Merry Lea was created with the assistance of the Nature Conservancy and the generosity of Lee A. and Mary Jane Rieth. To learn more or find directions, visit Merry Lea's web site at www.goshen.edu/merrylea.