Commencement speech: "From the Maple City to Cyberabad: What I wish I had known at graduation"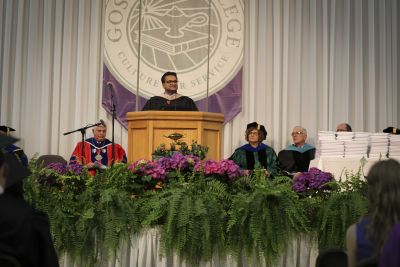 RELATED LINKS:
---
Commencement address (as prepared for delivery) by Raj Biyani '92, at the 117th Goshen College Commencement on Sunday, April 26, 2015
President Brenneman, faculty, friends, family and graduates of the class of 2015… I never thought in my wildest dreams that I would be speaking at your commencement. It is such an incredible honor to be here today to celebrate in your success!
As I was getting ready to fly to Goshen for today's ceremony, my children asked their grandma, "How did papa get to Goshen College to begin with?" And my mother answered, "Since Raj was only 18 and was going to a foreign country for the first time, we wanted to send Raj to a college in the United States that shared our family's values. When we read the Goshen College catalog… the mission, values and standards of living together, we felt confident that it was like sending Raj to a Hindu college!" There you have it – the full story on how I ended up in Goshen.
Once I got to Goshen College, I found that the unconditional love of my parents, no matter what I did, gave me the confidence to experiment, explore, and even fail… and the confidence that there was nothing I could not do. In fact, their unconditional love and steadfast support continues to inspire me even today.
I know that your parents have played a key role in setting you up for success. Let's give your proud parents a standing ovation.
I had four wonderful years at Goshen College, forging some of the best friendships of my life and forming deep and meaningful relationships with the faculty. Some of you have been here less than four years, if you transferred here or did graduate work. Some of you have spent four years here, and some of you perhaps more than four years. But regardless of the time you have spent at Goshen College, what was true back when I went to Goshen College and what continues to be true today is that the faculty and staff at Goshen College do not treat their work here as just a job. Rather, they treat it as their calling in life, giving it their all to ensure your success. Let's give your faculty a standing ovation for letting you stand on their shoulders.
As I reflect back on my journey since Goshen College, there are many things that I wish I had known at graduation.
To illustrate, let's go back to ancient Rome.
In ancient Roman society, you would demonstrate that you were successful by commissioning a sculpture for your home. The sculptors would often need multiple attempts, sometimes 6 or 7 failed attempts, to create the final, pristine marble masterpiece that would eventually adorn your home. The defective pieces would end up in the market with wax fillings and a touch of paint to cover their imperfections.
To differentiate themselves, some shops started to hang a sign outside their doors, which read "Sine Cera" which translates into English as "No Wax" to convey that their artwork was authentic and contained no wax cover-ups or imperfections.
The Latin root of the English word, "Sincere," is "sine cera" – the same phrase that the artists posted at their shops to communicate purity in their work and no cosmetic cover-ups. From its original roots in ancient Rome, the word "sincere" still stands for authenticity, purity, genuineness. It is a simple message, but one I wish I had been told many times as I embarked on life after college. Be authentic, be sincere to yourself.
How do you do that?
You do that by really understanding yourself – your values, your aspirations, your innate strengths.
Any activity that makes you feel energized, that gives you life and energy – pay attention to that, because that's a sign of an innate strength.
During your life, your dreams may change, your perspectives may change, and your knowledge and skills will certainly change. But your innate strengths – how patient, how competitive, how thoughtful, how compassionate, how analytical, how creative, how organized you are– will remain remarkably stable throughout the course of your life.
Play to these strengths. And in order to play to these strengths, you must first discover and articulate them to yourself and to those around you.
In the work world, when your team is in a crunch and needs a great performance, what is the "play" that everyone knows you can run? Your manager and your team needs to know where they can rely on you the most, where you will be most creative, most resilient, most effective. And, of course, your strengths are the answer.
Therefore, you need to get really good at describing in detail what your strengths are.
Let me illustrate what this means by talking about my innate strengths from my life journey.
First and foremost, I am energized by being a learner. This is a lifelong skill that I picked up from my time at Goshen College – learning how to learn. Some of you may be glad that now, at graduation, you are finally done learning, but I challenge you to never stop. In today's environment, which is changing so fast, being a learner is a pre-requisite. It's so vital that you learn something new every day whether it's through reading, whether it is interacting with subject matter experts, or whether it's through taking an online course.
Second, I am energized by an achiever mindset. What this means is that every day the scoreboard for me starts at zero and at the end of the day I have to be able to look back and say "Did I give it all I've got?" In my experience, giving it all I've got means a complete physical, mental, and emotional involvement in what I've chosen to do. This means I can push myself to the limits of my physical endurance, working extended hours for days on end. It means I spend every waking moment in ensuring I do my best.
As global citizens, all of you can make a significant impact on the world, if you give every day your best. I get excited and charged up when I see the impact of software on millions of users around the globe. Your impact might be quite different, but just as important. Each day, ask yourself, "Did I give it all I've got to add value to the world around me today?" Challenge yourself each morning to add value, big or small, to the world, and I guarantee that you will be energized by this.
Third, I am energized by being a game changer. I never let myself be boxed in by the realities and expectations of a defined situation. I refuse to play the game as defined by everyone else. It's not something I do as a rebel. Rather, it's something I do to add exponential value.
In order to be a game changer, you don't have to work on a version 1 product or new technology to practice innovation. There are opportunities to bring a fresh perspective in anything you do. As graduates, you have much to offer the world – new insights, fresh perspectives, the latest approaches to business, science, communication, the arts, education, or practically any field. As a result, you can be a game changer wherever you go.
Fourth, I am energized when I am around competent professionals – whether that's a great engineer, great designer, great professor, great administrative assistant, great artist, great hair dresser, or a great taxi driver, who knows how to navigate the crazy traffic in India! I am energized by forging deep relationships with folks I trust and respect. I feel energized when I am coaching and transforming a collection of great players into a Championship Winning Team. At Goshen College, servant leadership is modeled to you, as students. In fact, sometimes it isn't until you leave Goshen College, that you realize how unique that is.
It's mango season in India right now, and I recently drove through a mango orchard and I noticed two kinds of trees – trees that were standing up and trees that were bending down. The irony is that the fruit laden trees were the ones bending down. I've used that as a visual metaphor for the servant leadership style so well encapsulated in the Goshen College motto, "culture for service." Serving others with humility – especially as a servant leader is a sign of strength, not subservience.
Fifth, having spent half my life (23 years to be exact) in my adopted country – the United States of America, what we call as karma bhoomi in Hindi, and the other half in my country of birth – India, what we call as janam bhoomi in Hindi, I am energized by being in a global role.
As graduates of Goshen College, you have already been educated with the tools to play a global role in your life. Whether it was SST or being an international student, or participating in cross-cultural awareness activities on campus, you will never look at the world with the same lenses as you did when you arrived on campus. Your global awareness is an asset. Use it well, use it wisely, and use it for the good of the global community.
As you graduate from the Goshen College campus, I have one final assignment for you. This one will not be graded, and there is no due date, but it will be worth the time you invest. Take time to discover your true self, your most sincere self. So here is your assignment.
What is YOUR list of your top talents to offer the world and what is YOUR definition of success?
I have never followed other people's definitions of success or aspirations. Material success or a big job title has not been an aspiration. Rather, excellence and beauty in what I create is an aspiration. Newness and innovation is an aspiration. Collaborating with people who are smarter than I am, to deliver something bigger than any of us individually, is an aspiration. Building a world-class institution is an aspiration. Bringing joy and happiness in the lives of people I touch, is an aspiration.
So as part of your assignment, tell me, what are YOUR aspirations?
Each of you is a bundle of talent and energy. You are, after all, a graduate of a strong, liberal arts college with a reputed and highly-acclaimed program for creating global leaders. So continue to be strong, as you leave this place.
You will be your most creative, most effective, most productive, most resilient self when you figure out how to play to your strengths most of the time. When you are playing to your strengths, you will do your best work and your work will become play and you will be happiest. Focus on your strengths and use them.
Congratulations again, class of 2015! I wish you a blessed, fulfilling life as you use your strengths to spread a culture of service making the world a better place.
God bless you! And as we greet each other in India, NAMASTE!