Turtle Island Quartet with Nellie McKay to perform at Goshen College April 21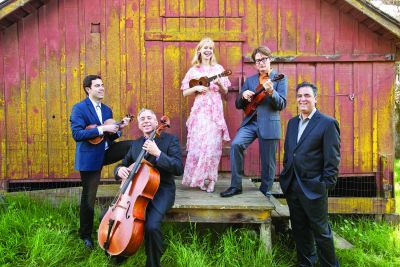 Performing Arts Series: Turtle Island Quartet with Nellie McKay
Date and time: Tuesday, April 21, 2015 at 7:30 p.m.
Location: Goshen College Music Center's Sauder Concert Hall
Cost: This concert is sold out. To be put on a waiting list, call (574) 535-7566 or email welcomecenter@goshen.edu
Website: turtleislandquartet.com
Two-time Grammy award-winning Turtle Island Quartet will team up with special guest Nellie McKay to present a delightful kaleidoscope of voice and strings at Goshen College on Tuesday, April 21 at 7:30 p.m. as part of the Performing Arts Series.
The ensemble will play the music of Billie Holiday, Billy Strayhorn and the 1920s Weimar cabaret.
Turtle Island Quartet merges classical quartet aesthetics with contemporary styles, from folk and swing to hip-hop and Latin American music. Yo-Yo Ma praised the group as "a unified voice that truly breaks new ground – authentic and passionate – a reflection of some of the most creative music-making today."
Nellie McKay will combine her talents on piano, mallets and ukulele with the string quartet's innovative rhythmic techniques to bring a touch of Doris Day to the Sauder stage. Famous for her musical wanderlust and playful lyrics, McKay is known as a passionate advocate for feminism, civil rights and other progressive ideals.
THIS CONCERT IS SOLD OUT. To be put on a waiting list, call (574) 535-7566 or email welcomecenter@goshen.edu
Seating for those with disabilities is available. Tickets are nonrefundable.
The Goshen College Performing Arts Series debuted on Sept. 21, 1997. Since then, the college has hosted more than 100 concerts by some of the world's greatest performers as part of the program.