C. Henry Smith the topic of namesake peace lecture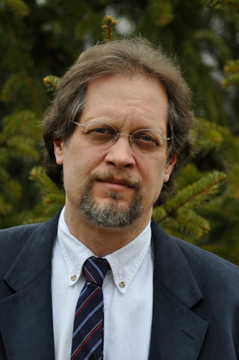 2015 C. Henry Smith Peace Lecture: Perry Bush, Bluffton (Ohio) University professor of history, "The Professor as Peacemaker: C. Henry Smith and the Mennonite Intellectual Tradition, 1920-1948."
Date and time: Tuesday, March 17 at 7:30 p.m.
Location: Goshen College's Administration Building Room 28
Cost: Free and open to the public
Perry Bush, professor of history at Bluffton (Ohio) University, will present the 2015 C. Henry Smith Peace Lecture on Tuesday, March 17 at 7:30 p.m. in the Goshen College Administration Building Room 28. Bechtel will speak on "The Professor as Peacemaker: C. Henry Smith and the Mennonite Intellectual Tradition, 1920-1948." The lecture is free and open to the public.
In his lecture, he will outline the important role played by the Mennonite historian C. Henry Smith in the development of an emerging new role for Mennonites in the first part of the twentieth century: the position of Mennonite public intellectual. While several other Mennonites of Smith's day were engaged in similar activities, Smith pioneered this role, especially after World War I, through a long and increasingly busy public speaking career.
While Smith continued in this role to his death in 1948, his growing prominence as a Mennonite public intellectual crested in the later 1930s as he developed a following across the church, in many secular circles and even on regional radio. In this public activism he repeatedly advocated a consistent Mennonite peace position as the world turned once again to the ways of war.
Bush will highlight another role of Smith's peace advocacy: as a voice for unity within the Mennonite church in a time of deep and accelerating division. In light of the current struggles of the Mennonite Church, Bush argues, Smith's voice and role as a leading church intellectual may be increasingly relevant for us today.
Bush is professor of history at Bluffton University in Bluffton, Ohio. He received his bachelor's degree from the University of California, Berkeley, and his master's degree and doctoral degree in United States social history from Carnegie Mellon University. He is the author of four books. In "Two Kingdoms, Two Loyalties: Mennonite Pacifism in Modern America" (Baltimore: Johns Hopkins University Press, 1998) he explores the historical changes occurring in Mennonite pacifism against the backdrop of extensive Mennonite socio-economic change in twentieth century America.
He has also published "Dancing with the Kobzar: Bluffton College and Mennonite Higher Education" (Telford, PA: Pandora Press) and "Rust Belt Resistance: How a Small Community Took on Big Oil and Won" (Kent, Ohio: Kent State University Press, 2012). A newly completed manuscript, "Peace, Progress and the Professor: The Mennonite History of C. Henry Smith," is forthcoming in September 2015 from Herald Press. Bush has also written widely on peace and religious history in twentieth century America in both popular and scholarly journals, and has taught U.S. history as a Fulbright Scholar in Ukraine. He is a member of First Mennonite Church in Bluffton.
The C. Henry Smith Peace Lecture, named for a former history professor at both Bluffton University and Goshen College, includes a research grant for the lecturer. The grant is awarded each year to a professor at a Mennonite college, who then presents the lecture at both Bluffton University and Goshen College.