March 10 Afternoon Sabbatical to look at 'creating a legacy'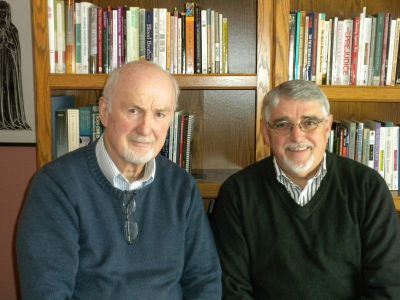 Afternoon Sabbatical: "Creating a Legacy," lecture by Jep Hostetler, Ph.D., and Glen E. Miller, M.D.
Date and time: Tuesday, March 10, 2015, 1 p.m.
Location: Goshen College Music Center's Sauder Concert Hall
Cost: Free and open to the public
Jep Hostetler, a retired medical educator, humorist and magician, and Glen Miller, a retired medical doctor, administrator and author, will discuss ways to create a legacy through an intentional process of living during the Afternoon Sabbatical series on Tuesday, March 10, at 1 p.m. in the Goshen College Music Center's Sauder Concert Hall. The event is free and open to the public.
Using humor, medical facts and personal experiences, Hostetler and Miller will focus on how to emphasize personal gifts, priorities and dreams, and how to prepare for a graceful exit at the end of life.
Jep Hostetler, Ph.D., associate professor emeritus of preventative medicine at the Ohio State University, is an author, magician and inspirational and motivational speaker. For more than 20 years, Hostetler has used his uplifting presentations to inspire audiences, inviting them to consider fresh ways to look at the foibles, joys and sorrows of life.
Hostetler is author of "The Joy Factor" and "Ten Things Parents Should Know About Drug and Alcohol Abuse." He has served as the international president of the International Brotherhood of Magicians, and he has won first-prize at the International Close-up Competition. He lives in Goshen with his wife, Joyce.
Glen Miller, M.D., is an author and retired physician who had his own wake-up call when he suffered a heart attack. When faced with death, Dr. Miller emphasizes that good preparation for the inevitable will ease this journey. With compassion honed by serving overseas among poor and despairing people and the practical ideas gleaned from his medical practice, Dr. Miller provides rich guidance to aging persons to live more fully and to proactively plan for a good death.
Born on a farm in northwest Ohio, Miller's vocation and motivations have taken him to more than 44 countries. Over 25 years, he played a key role in elevating the local hospital in Bellefontaine, Ohio, to the top rung of small hospitals in the state. Dr. Miller is retired and lives in Goshen with his wife, Marilyn.
Afternoon Sabbatical is an annual series that connects the community and Goshen College through on-campus programs and bus tours that draw on the expertise of GC faculty and community members.
Future programs in the 2014-15 Afternoon Sabbatical series include:
Tuesday, April 14, 2015, at 1 p.m., Music Center's Sauder Concert Hall
"Something Old, Something New: A Preview of the Goshen College Symphony Orchestra Spring Pops Concert," directed by Dr. Christopher H. Fashun.
Tuesday, May 19, 2015, bus trip to Grand Rapids, Michigan. Visit includes the Grand Rapids Public Museum, Frank Lloyd Wright house and Meijer Gardens and Sculpture Park.
Cost: $99, tickets are still available. Call (574) 535-7567 to reserve your spot.