Peking Acrobats to present daring acts on Feb. 10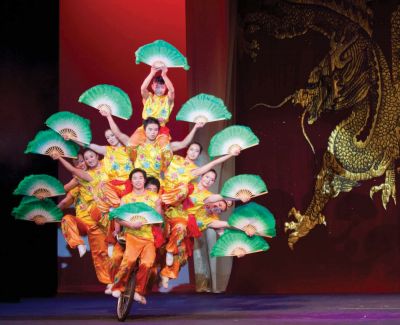 Performing Arts Series Concert: The Peking Acrobats
Date and time: Tuesday, Feb. 10, 2015 at 7:30 p.m.
Location: Goshen College Music Center's Sauder Concert Hall
Cost: $40, $35, $23, $15
For tickets or information: Visit www.goshen.edu/tickets, call (574) 535-7566 or email welcomecenter@goshen.edu
Website: www.chineseacrobats.com
Audiences can gear up for the Chinese New Year as The Peking Acrobats bring bold gymnastic maneuvers to center stage with Goshen College's Performing Arts Series on Tuesday, Feb. 10 at 7:30 p.m.
The Chinese acrobatic group will perform precarious balancing acts, trick-cycling and precision gymnastics in Sauder Concert Hall while traditional Chinese musicians provide live accompaniment.
The Peking Acrobats have redefined the art of acrobatics, perfecting skills cultivated by generations of Chinese acrobats dating back 2,000 years. Since their Western debut in 1986, the Peking Acrobats have gone on to set the Guinness World Record for Tallest Human Chair Stack, among other accomplishments.
A Chicago Tribune review declares, "At no time have we seen anything like The Peking Acrobats. Feats of clowning, dexterity, grace, strength and coordination rippled from the stage."
With staggering displays of contortion and balance, The Peking Acrobats will push the boundaries of human possibility with their performance
Tickets are on sale for $40, $35, $23 and $15, available online at www.goshen.edu/tickets or through the Goshen College Welcome Center by calling (574) 535-7566, or emailing welcomecenter@goshen.edu. Purchase soon, as only a few tickets remain for this performance.
Seating for those with disabilities is available. Tickets are nonrefundable.
The Goshen College Performing Arts Series debuted on Sept. 21, 1997. Since then, the college has hosted more than 100 concerts by some of the world's greatest performers as part of the program.
–  By Kate Yoder