Goshen College's Study-Service Term ranked 4th nationally for best study abroad program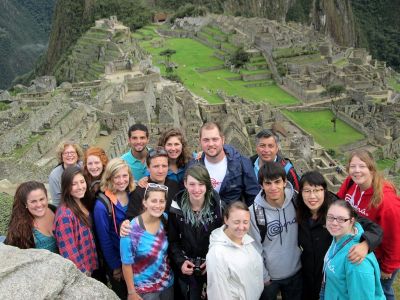 Goshen College's Study-Service Term (SST) program has been ranked fourth on a list of the 50 best study abroad program in America.
Best College Reviews, an independent website, created the list based on several criteria, including:
The program is open to a limited number of students, providing a more intimate experience while abroad.
The program is at least a semester long.
Faculty members are involved with the students internationally, either traveling with the students, teaching abroad or overseeing the program in the country.
The university has a specific location internationally; students are not simply enrolling at international universities.
Goshen College's unique SST program is divided into two distinct parts. During the first half of the semester, participants study the language, culture and history of the country, usually in the capital city. During the second half of the semester, students spread out, often to rural areas, to volunteer with nonprofits and other service organizations. Students stay with local host families throughout their term.
Since the SST program began in 1968, nearly 8,000 students have participated in 24 countries worldwide. Current locations include China, Cambodia, Nicaragua, Peru, Senegal and Tanzania.
"Study abroad programs provide opportunity for broadening the mind, growing compassion and allowing the person to see the world through a new lens, but it also can help graduates land jobs," said Nick Plato, author of the ranking. "Many potential employers see international experience as a qualification in hiring college graduates."
Best College Reviews was started with the explicit goal of competing with U.S. News & World Report as an authoritative, objective and editorially independent college review journal.
This year, Goshen College was also ranked fifth nationally for most students studying abroad by U.S. News and World Report. About 80 percent of Goshen College students study abroad during the course of their college experience.
The full list of the 50 best study abroad program in America can be found at http://www.bestcollegereviews.org/best-study-abroad-programs/.