WGCS a finalist for Best College Radio Station in the Nation for fifth year in a row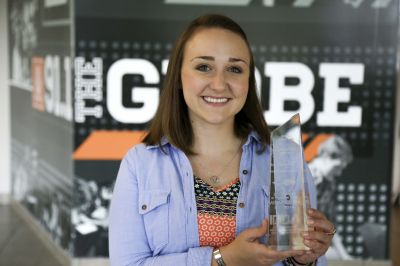 Goshen College's student run radio station, 91.1 FM The Globe, (WGCS), is in the running for the Intercollegiate Broadcasting System's (IBS) "Best College Radio Station in the Nation" for a fifth year in a row, having won twice (2011 and 2013), the only station to claim the title more than once.
The Globe received eight individual nominations and was also named a finalist for "Best College Radio Station" among institutions with fewer than 10,000 students enrolled, making WGCS eligible for the "Abraham & Borst Award" as best overall station.
Individual student nominations include Ashley Davenport for "Best Newscast" and "Best Underwriting Campaign," Danielle Kerschhackl for "Best Community News Coverage" for "Blood Drive," Tony Miller for "Best Play-By-Play," Dalton Shetler for "Best Sports Update," Victor Garcia for "Best Live Music Broadcast" with The Globe's moe. concert, and Andrew Snyder for "Most Innovative Program" with his 2014 FIFA World Cup coverage. The WGCS staff was also recognized as a finalist for "Best Use of Social Media."
"It's no secret that our students have been able to make their mark in New York over the past few years," said Jason Samuel, WGCS general manager and assistant professor of communication. "The real secret is hard work – when you don't have to or when it's not convenient – that makes the difference. It's the little things that separate our students from the thousands of other student broadcasters across the country. We don't take the success for granted and know deep down that every single nomination is a victory in and of itself."
The competition attracts thousands of entries in 40 different categories. Finalists are chosen from the top 10 percent of all national entries from colleges and universities from across the country. This year more than four times as many entries were judged compared to 2014, with a record 70 different stations receiving at least one nomination.
"To be named a finalist for the fifth consecutive year for IBS is such a great honor," said Danielle Kerschhackl, student station manager. "It is evidence of how hard everyone at The Globe works. I couldn't be happier to be a part of such a respected radio station, and I can not wait to see what other achievements lie ahead."
National winners will be announced on March 7th at the IBS awards ceremony as part of the 75th annual International IBS Conference at Hotel Pennsylvania in New York City.
WGCS has been on the air since 1958 and is staffed by about 40 student workers and community volunteers. It is one of the college's most popular co-curricular activities, preparing students to become broadcast professionals while providing a service to the Michiana community.