Goshen College faculty voice recital RESCHEDULED for Feb. 3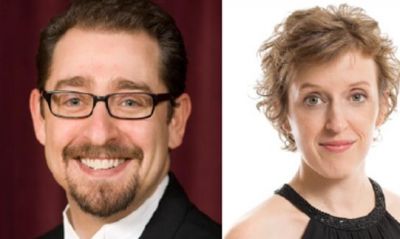 PLEASE NOTE: This event has been rescheduled for Tuesday, Feb. 3
Concert: Faculty Recital: Scott Hochstetler, baritone; Rebecca Dengler Kaufman, mezzo soprano; Christine Larson Seitz, piano
Date: Tuesday, Feb. 3, 7:30 p.m.
Location: Goshen College Music Center's Rieth Recital Hall
Tickets: $7 adults, $5 seniors/students, available at the door one hour before the concert. GC faculty/staff/students free with valid ID.
Three members of the Goshen College Music Department will present a faculty voice recital on Tuesday, Feb. 3, in Rieth Recital Hall. Performing will be Scott Hochstetler, baritone, and Rebecca Dengler Kaufman, mezzo-soprano, with pianist Christine Larson Seitz. The event will take place at 7:30 p.m.
Hochstelter, Dengler Kaufman and Seitz will present a mixed program of solo and ensemble repertoire, including works by Mozart, Robert Schumann, Clara Schumann, Alessandro Scarlatti, Samuel Barber, Gilbert and Sullivan, and more. Soprano Sandra Hill will also perform as a guest musician.
Tickets are $7 adults, $5 seniors/students, available at the door one hour before the concert. Goshen College faculty, staff and students are free with valid ID.
Scott Hochstetler is associate professor of music at Goshen College, where he teaches in the choral, vocal and opera theater programs, and conducts the Goshen College Men's Chorus. He is also the director of St. Joseph Valley Camerata, an area professional choir. Previous appointments include Western Mennonite School (Ore.), the University of Michigan – Flint, and Corban College (Ore.). With graduate degrees from the University of Michigan and Michigan State University, Dr. Hochstetler has studied conducting with David Rayl, Sandra Snow, Jonathan Reed, Jerry Blackstone, Theodore Morrison and Kenneth Kiesler, and he has studied voice with Leslie Guinn, Stephen Lusmann and Doyle Preheim.
Rebecca Dengler Kaufman is a graduate of Goshen College and received her Master of Music in Vocal Performance from the University of Northern Colorado (UNC). While attending UNC Rebecca appeared onstage as Cherubino in "Le Nozze di Figaro" and Prince Orlofsky in "Die Fledermaus." She also received first place at the National Association of Teachers of Singing (NATS) competition in the Colorado/Wyoming chapter. After attending UNC, Dengler Kaufman taught in the music department at Arapahoe Community College in Littleton, Colorado while performing throughout the Denver Metro area. In Denver, Dengler Kaufman was a regular soloist at St. John's Episcopal Cathedral and performed in the Opera Colorado chorus. She has appeared as soloist in Vivaldi's Gloria, Copland's In the Beginning, Mendelssohn's Elijah, and Handel's Messiah. Currently, she helps young Elkhart County students find joy and confidence in singing through vocal instruction. She performs with the Saint Joseph Valley Camerata as well as finding opportunities to serve as soloist in the Michiana area in the midst of raising her three children.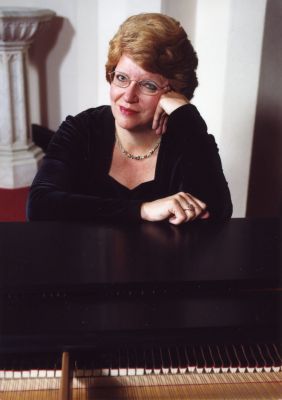 Christine Larson Seitz is staff accompanist for the Goshen College Music Department. Having previously taught at IUSB, Bethel College (Mishawaka) and Goshen College, she has been a sought-after recital accompanist in Michiana for over 35 years. She earned a bachelor's degree in piano performance and a master's in studio accompanying from Indiana University South Bend, studying under Robert Hamilton and John Owings. Since 1978, Seitz has been the accompanist and assistant director for the St. Joseph Valley Camerata, and has been the organist at First United Methodist Church in Mishawaka since 1987.