Sculptor Bob Emser to explore fascination with flight in 2015 Eric Yake Kenagy Visiting Artist lecture
Eric Yake Kenagy Visiting Artist Lecture: "Aerodrome" by Bob Emser, sculptor
Lecture date, time and location: Sunday, Jan. 25, 7-8 p.m. in the Goshen College Music Center's Rieth Recital Hall. A public reception will take place immediately after the lecture in the Music Center's Hershberger Art Gallery.
Exhibit dates: Sunday, Jan. 25 – Sunday, March 1, 2015, Hershberger Art Gallery
Cost: Free and open to the public 
Bob Emser, a sculptor and aviation enthusiast, is the Goshen College Art Department's 2015 Eric Yake Kenagy Visiting Artist and will deliver a public lecture on Sunday, Jan. 25 at 7 p.m. in the Goshen College Music Center's Rieth Recital Hall, with a reception immediately following in the Music Center's Hershberger Art Gallery. The presentation and reception are free and open to the public.
"As a child I was fascinated by the structure of the balsa wood airplane models that I built," Emser's artist statement reads. "For more than two decades I have been exploring these ideas and putting them into the public sculptures that I create."
Emser was born in 1954 in Illinois at the height of the baby boom. Influenced both by the constant house construction of the era and his father, a mechanical engineer, he spent most of his early years building and playing with machines. This grew into a fascination with model airplanes that he shared with his father.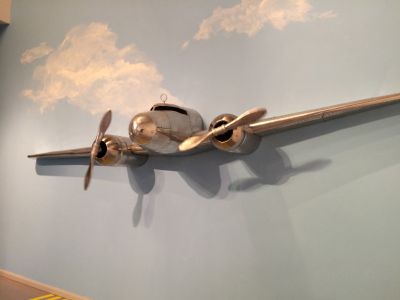 "What interests me in aircraft architecture is the internal structure," Emser's artist statement continues. "How its aesthetic dimension is made visible on the surface, exploring and responding to the relationship of mechanical structures becoming organic. My sculpture is about a spiritual reference to the pioneering machinery of aviation history."
During his more than 30-year career, Emser has exhibited in numerous solo and group exhibitions on five continents, eight countries and 27 states in the United States. His extensive body of work, dating back to 1978, can be seen in cities and municipalities, sculpture parks, museums and institutions of higher learning. He has served as a visiting artist, has taught at several universities and held a tenured professorship for 14 years at Eureka (Ill.) College. Emser was the youngest sculptor to have his work selected for the prestigious Illinois Arts Council's Sculpture Exhibition. The sculptures were exhibited in and around Chicago and traveled through out the state for over a year.
As a strong art advocate, he founded a not-for-profit art center in Peoria, Illinois, and served as the executive director of Chicago's international sculpture exhibition, Pier Walk. He was the founding and past president of Chicago Sculpture International, the local affiliate of International Sculpture Center, where he served on the board of directors. He also served on the board of directors of the Nathan Manilow Sculpture Park in Chicago.
In a review in Art in America (May 2006), Emser's work was described as "complex and challenging with its own distinctive personality."
The Eric Yake Kenagy Visiting Artist Program honors the late Eric Yake Kenagy, who was a gifted ceramics student at Goshen College from 1984 until his death in 1986.