World-renowned instrumentalists to perform masterpieces during Dec. 9 Afternoon Sabbatical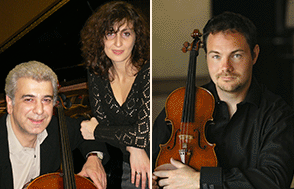 Afternoon Sabbatical: "Drama and fun – Tchaikovsky and Piazzolla," by David Machavariani, Ketevan Badridze and Jameson Cooper
Date and time: Tuesday, Dec. 9, 2014, 1 p.m.
Location: Goshen College Music Center's Sauder Concert Hall
Cost: Free and open to the public
The husband and wife duo of David Machavariani, cello, and Ketevan Badridze, piano, will be joined by Jameson Cooper, violin, during an Afternoon Sabbatical performance on Tuesday, Dec. 9, 2014 at 1 p.m. in the Goshen College Music Center's Sauder Concert Hall. The event is free and open to the public.
The concert will include a monumental trio by Tchaikovsky and a masterpiece by Piazzolla influenced by Argentinean tangos.
David Machavariani, adjunct cello instructor at Goshen College, was born in Tbilisi, Republic of Georgia. His official musical training started at the age of eight in a special music school for gifted children in the Georgian capital of Tbilisi. He debuted at the age of fourteen with the Georgian National Symphony, and continued his studies at the Tbilisi State Conservatory under the tutelage of Eldar Isakadze and Tamara Gabarashvili (both pupils of Mstislav Rostropovich), and earned his master's degree with highest distinction. In 1992, by invitation of Indiana University South Bend, Machavariani came to the United States.
As a soloist, Machavariani has played with the Georgian National Symphony, Georgian Radio and TV Orchestra, IUSB Philharmonic and Elkhart Symphony Orchestra. He was a member of Georgian Chamber Orchestra under Liana Isakadze touring in Czechoslovakia, Yugoslavia, Hungary, West Germany and Austria. He was principal cello in the Elkhart Symphony Orchestra and Pro Musica Chamber Orchestra in St. Joseph, Michigan. Currently he is a member of South Bend Symphony Orchestra and Columbia (MO) Festival Chamber Orchestra, and also a member of Endless Mountain Music festival Orchestra in Wellsboro (PA).
Ketevan Badridze, piano instructor at Indiana University South Bend, was born in Tbilisi, Republic of Georgia, and began piano studies at the Georgian Special Music School at a young age. She continued her studies at the Tbilisi State Conservatory and in 1993, upon completion of her postgraduate degree, she was appointed to the piano faculty.
Since her first performance on stage with orchestra at the age of twelve, Ketevan has appeared with the Tbilisi Symphony and Chamber Orchestra, the Erevan Philharmonic Orchestra and BBC Welsh Symphony Orchestra. She was a frequent performer of solo and chamber music in Georgia, France, Belgium, Austria, Italy and Germany.
In 2000 she moved to the U.S. to study with Professor Alexander Toradze, and has appeared with the Toradze Piano Studio at numerous music venues both in Europe and the U.S. Badridze has been a major prizewinner of numerous international piano competitions, such as Newport International Piano Competition, UK; Georgian Republic Piano Competition; The World International Piano Competition – Cincinnati, Ohio; New Orleans International Piano Competition; and the Bartok-Kabalevsky-Prokofiev International Piano Competition – Radford Virginia.
Jameson Cooper, violin instructor at IUSB and first violin in the highly regarded Euclid string quartet, was born in Sheffield, England, and began studying the violin at age six. He went on to become the concertmaster of the National Youth Chamber Orchestra before entering the Royal Northern College of Music, where he studied with Malcolm Layfield and Wen Zhou Li. He continued his studies in the U.S. with Dorothy Delay, Masao Kawasaki and Roland and Almita Vamos. While studying at Kent State University, he and colleague Jacob Murphy founded the Euclid Quartet. Cooper has performed as soloist in major halls in Europe and the U.S., including most recently at the Kennedy Center in Washington, D.C. He has performed many premieres of solo violin and chamber works. With the Euclid Quartet, Cooper has won numerous competition prizes and performed to critical acclaim throughout the U.S. He has recorded the complete string quartets of Bela Bartok with the Euclid Quartet and a recently released album of solo violin works by Kent State Composers.
Afternoon Sabbatical is an annual series that connects the community and college through on-campus programs and bus tours that draw on the expertise of Goshen College faculty and community members.
Future programs in the 2014-15 Afternoon Sabbatical series include:
Tuesday, Feb. 11, 2015, 1 p.m., Music Center's Sauder Concert Hall
"Elkhart County: Transformed Through Education, presentation by Brian Wiebe, executive director of Horizon Education Alliance
Free and open to the public.