Mexican Consulate and Goshen College to award $40,000 in aid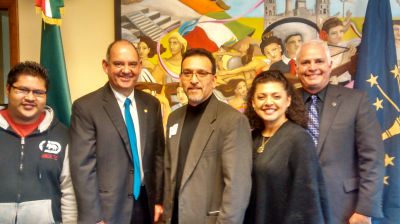 The Mexican Consulate in Indianapolis and Goshen College will together award $40,000 in scholarship aid to GC students of Mexican heritage during the 2014-15 school year.
Representatives of the college, including President James Brenneman, Center for Intercultural and International Education (CIIE) staff and a first-year GC student, attended a scholarship granting ceremony at the Mexican Consulate in Indianapolis on Thursday, Nov. 20. The consulate presented a $20,000 check that the college will match dollar-for-dollar.
Goshen College was selected as the only college in Indiana to receive scholarship aid from the Mexican Consulate in Indianapolis in 2014.
"The consulate recognizes our intentional process of welcoming Latino students and their families to the college," said Gilberto Pérez Jr., senior director of intercultural development and educational partnerships. "Our partnership with the Mexican Consulate is one of the ways we will continue to support Hispanic students."
CIIE and the financial aid office at Goshen College will select Mexican and Mexican-American students to receive scholarships based on financial need. Four $5,000 scholarships and ten $2,000 scholarships will be awarded to students in spring 2015.
"We want the community to know that we are interested in supporting the Latino community and finding ways to move them into the college pipeline through financial support," said Pérez.
Established in 2006, the Center for Intercultural and International Education focuses on creating a transformed learning community on campus, increasing access to Goshen College for under-served students and doing research on changing local demographics and their implications for higher education. This includes the Study-Service Term program, diverse student support, the Master of Arts in Intercultural Leadership (MAIL), research, and community outreach and education.
For more information, contact Gilberto Pérez Jr. at 574-535-7434.