Goshen College to screen acclaimed Ukrainian film with local ties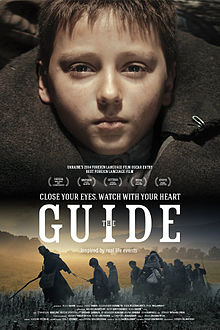 Film screening: "The Guide"
Date and time: Saturday, Dec. 6, 2014 at 2 p.m.
Location: Goshen College Umble Center
Cost: $5 general seating. GC students free with ID. Tickets available at the door.
Goshen College Professor of Music Solomia Soroka never imagined her son would become a movie star, but his unexpected role in a new film is garnering international attention.
Soroka's son, Anton Sviatoslav Greene, a sixth grader at Clague Middle School, stars in "The Guide," a Ukrainian drama that was recently submitted to the Oscars for consideration in the Best Foreign Film category. A special showing of the film will take place on Saturday, Dec. 6 at 2 p.m. in the Goshen College Umble Center and will include a talk-back session with the director, Oles Sanin.
A native Ukrainian, Soroka first heard about the film from a friend in Canada who had connections to a Ukrainian film company. The filmmakers were searching for a bilingual boy to star in their new movie about an American kid in 1930s Ukraine.
Soroka and her husband, University of Michigan music professor Arthur Greene, thought their son might have a shot, so they submitted a video of him playing piano and reciting poems in English and Ukrainian. Months later, Greene was offered the part.
"The Guide" tells the story of an American engineer who travels with his son (Greene) to Ukraine during the Great Depression to launch a tractor business. When the father is murdered by Stalin's secret police, his son goes on the run with a blind folk musician.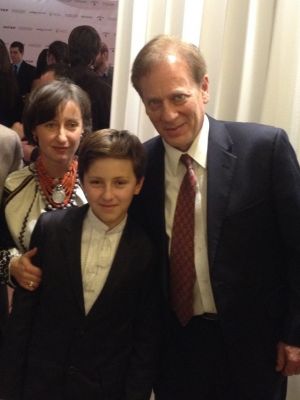 Blind minstrels called kobzars were not uncommon in Ukraine in the early 20th century. They sang about the history and beauty of Ukraine as they traveled from town to town with the help of poor children who guided them in exchange for food. Joseph Stalin believed these musicians were too nationalistic and had many of them killed during his communist regime.
Watch a trailer of "The Guide"
Soroka sees significant parallels between the film's themes and the recent conflicts in Russia and Ukraine.
"Our relations with the former Soviet Union have reached a crisis point," said Soroka. "Many Americans would like to understand better what has happened. 'The Guide' provides context for these current events, addressing situations that are little-known here."
According to Soroka, "The Guide" is striking a particular chord within Ukrainians, who attended the film's Nov. 14 opening weekend in large numbers.
"The reaction of viewers so far has been very enthusiastic and emotional," Soroka said. "After every showing that we were present, the audience gave a long standing ovation. I observed many people crying."
"The Guide" runs for 122 minutes. Tickets for the Goshen showing cost $5 and will be available at the door before the show. Goshen College students are free with ID.