New book details 70 years of Mennonites in Puerto Rico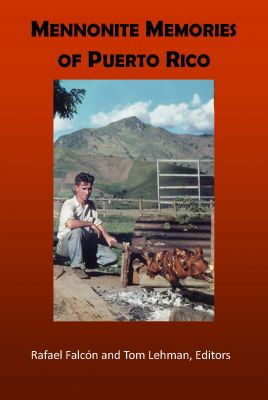 Rafael Falcón, professor emeritus of Spanish at Goshen College, and Tom Lehman, a 1969 Goshen College graduate, released a book last month titled "Mennonite Memories of Puerto Rico" (CreateSpace Independent Publishing Platform, Oct. 2014), detailing the experience of Mennonites in Puerto Rico.
The book contains essays and stories from 19 writers who lived and served in the Puerto Rican Mennonite community in the last 70 years, since Mennonites first arrived there during World War II as conscientious objectors and volunteers.
"We were delighted… with the diversity of their stories," Falcón wrote in the book's preface. "From being whacked on the forehead by a classmate's bat, to retrieving a pig in the dark of night, to being chased by an inebriated man with a machete, to riding a horse in search for land, to sleeping on a wooden exam table, to jumping from a second floor balcony to avoid a missionary visit, and so many more."
After arriving in 1943, Mennonites established hospitals, schools, and agricultural and economic development projects in Puerto Rico. More Mennonites came later to plant churches and gradually a Puerto Rican Mennonite culture emerged. Eventually, island-born individuals moved into more active roles within Puerto Rican Mennonite institutions and churches.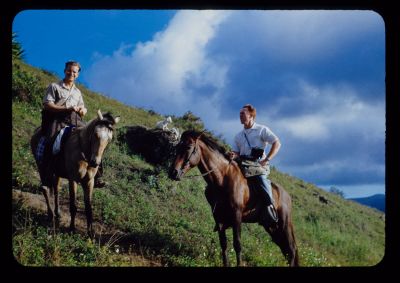 Contributors to the book include Luke Birky (a 1950 GC graduate), Lydia Rodríguez Cender, Ron Graber (a 1952 GC graduate), Galen Greaser, Lawrence Greaser, Elena Ortiz Hershberger, Lowell Herberger, Lester Hershey (a 1938 GC graduate), Ángel Luis Miranda, Wilbur Nachtigall, Addona Nissley (a 1962 GC graduate), Linda Ulrich Nussbaum, Enrique Ortiz, José Ortiz (a 1962 GC graduate), Eileen Rolón, Samuel Rolón, Fidel Santiago, Rolando Santiago, Norma Espada Stoltzfus and Weldon Troyer (a 1953 GC graduate). Falcón and Lehman serve as the book's editors.
Falcón was born in Aibonito, Puerto Rico, and attended Academia Menonita Betania, a school started by Mennonites in 1947. Falcón received his bachelor's degree from the Interamerican University of Puerto Rico, and finished one year of graduate studies at the Universidad de Puerto Rico. He completed his masters and doctoral degrees in Spanish American Literature at the University of Iowa. Falcón taught Spanish at Goshen College from 1979 to 2011.
He has published books and articles on a variety of themes, including Puerto Rican immigration to the United States, Afro-Hispanic influence in literature, Hispanic culture and Hispanic Mennonite history. In 1985 Herald Press published his "La Iglesia Menonita Hispana en Norte América: 1932-1982," as well as its translated version. "Salsa: A Taste of Hispanic Culture" came out in 1998, and in 2008 a collection of short stories, "Mi Gente: In Search of the Hispanic Soul." In addition, he has edited numerous textbooks for the teaching of Spanish as a second language.
Tom Lehman was born in eastern Ohio, the son of school teachers who served in mission work for the Mennonite Church in Ethiopia and Puerto Rico. He graduated from Goshen College in 1969 and obtained a master's degree in library science from Indiana University. Since retiring from the University of Notre Dame Hesburgh Library after 26 years, he has been digitizing missionary photos taken outside the United States in the mid-20th century. Photos from this collection have been the subject of two books and have appeared in numerous books, magazine articles and TV shows. They can be seen at www.flickr.com/photos/tlehman/. In 2013 he published Justus Holsinger's previously unpublished 1970 manuscript, "Puerto Rico: Island of Progress."