Graphic designers display socially conscious collections in Hershberger Gallery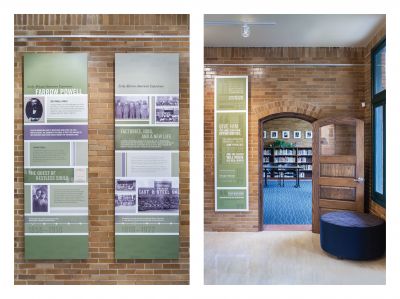 Exhibit: Peni Acayo and Anne Berry
Dates: Nov. 16 through Jan. 18
Reception date and time: Sunday, Nov. 16, 2-4 p.m. There will be an artist talk directly following the reception, from 4-5 p.m.
Location: Goshen College Music Center's Hershberger Art Gallery
Cost: Free and open to the public
Graphic design artists Anne H. Berry '99 and Penina Acayo '11 will display their artwork at the Goshen College Music Center's Hershberger Gallery from Nov. 16, 2014 through Jan. 18, 2015. A reception will take place on Sunday, Nov. 16, 2-4 p.m. in the gallery, with an artist talk directly following the reception, from 4-5 p.m.
Berry is a professor of visual communication design at the University of Notre Dame in South Bend, Indiana. Formerly, Berry was an assistant art professor at Goshen College from 2009-2011 and an adjunct professor at Kent State University from 2007-2008. In 2008, she graduated from the School of Visual Communication Design at Kent State University with a Master of Fine Arts degree. She focused on environmental (or experiential) graphic design, an area of design that uses art to facilitate meaningful interactions with a given space or environment.
Berry's collection consists of a series of colorful panels that tell the story of the desegregation of South Bend's Engman Public Natatorium, a public swimming pool. The facility, which opened in 1922, denied full access to the city's growing African American population for 38 years.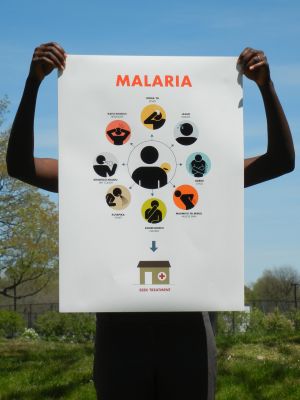 On each panel, Berry features quotes from first-hand accounts and incorporates original photographs. As a collection, the pieces serve as a lesson in civil rights history and a visual reminder of the existence of racial discrimination in Northern Indiana.
The formerly segregated Natatorium now hosts the Civil Rights Heritage Center, where Berry's panels are permanently displayed.
Penina Acayo, originally from Kampala, Uganda, is a research associate in visual communication design at the University of Notre Dame. She graduated with a bachelor's degree in art from Goshen College in 2011. Similar to Berry, Acayo received a Master of Fine Arts degree at Kent State University. In Acayo's thesis project, "Design education for Ugandan secondary schools," she discusses how Ugandan secondary education systems might incorporate design education into their curriculums.
Acayo's collection consists of informational materials that explain how to prevent and treat malaria and ways to improve sanitation habits in the region of Kibera, Kenya. The collection includes artistically designed leaflets, dosage instruction handouts and a series of symptom cards.
Relying primarily on images and minimal text in both English and Swahili, Acayo designed the pieces with the intent to improve healthcare education.
"Healthcare information is often misrepresented and filled with false rumors about sickness and treatment," said Acayo. "Existing visuals typically fail by using culturally out-of-context narratives that are too complicated to understand."