Pioneer in women's sports establishes athletic scholarship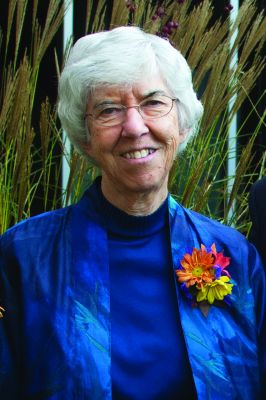 It takes a lot of energy to keep up with Ruth Gunden '52, even at age 83. That energy drove Gunden's 40-year Goshen College career, which left a legacy filled with milestones.
In 1958, she founded the women's basketball team, the first intercollegiate women's athletic team at GC. In 1971, in Jamaica, Gunden became the first woman to lead a Study-Service Term (SST) unit. In 1977, she became the first female chairperson of the physical education department.
In 2014, Gunden decided to pave the way for others by offering a scholarship for female athletes. She believes that athletics are crucial to the success of the college, and hopes the Ruth E. Gunden Athletic Scholarship will help recruit high-quality student athletes who will boost the competitiveness of GC teams.
"I don't think Goshen College would be here if we didn't have sports for men and women to play," Gunden said.
Gunden's coaching career
Gunden received her master's degree (1956) and Ph.D. (1967) in physical education from the University of Iowa. She called the university a "hotbed for women in sports" that gave her a new perspective on gender equality in athletics.
Shortly after she began teaching physical education at Goshen College in 1953, she proposed a plan to form an intercollegiate women's basketball team. This was nearly 20 years before the federal law known as Title IX mandated equality for women's sports in educational institutions.
Gunden went to the president of Goshen College, Paul Mininger, and stated her case for letting females play intercollegiate games. She started the basketball team with his permission. "And we did very well," Gunden said.
She served as the women's head basketball coach from 1965 to 1981, compiling a record of 123 wins and only 54 losses: a .695 winning percentage.
In addition to basketball, Gunden coached the women's tennis and volleyball teams during her career at Goshen College. She oversaw and promoted women's sports through many statewide and national leadership roles, including as the president of the Hoosier Conference for Women and the charter commissioner for the Midwest Association for Intercollegiate Athletics for Women.
"I like to see everybody have the chance to play a sport," Gunden said. "You get to know other people and use your energy in a good way."
– By Kate Yoder '15