Retired GC art professor awarded grant, rediscovers body of works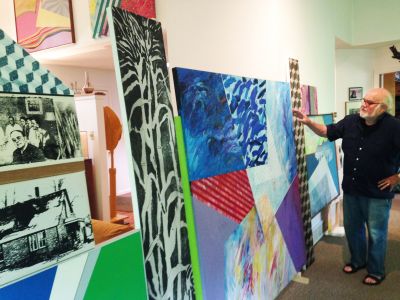 In June, the Indiana Arts Commission (IAC) awarded former Goshen College art professor Abner Hershberger a $2,000 independent artist grant.
Hershberger, with the intention to document and archive artwork from his 55-year career, hired an art photographer to shoot professional-grade photos of his pieces.
Now 80 years old, Hershberger has been creating multimedia paintings, sketches, silk-screen prints and watercolor paintings for decades. After graduating with an art degree from Goshen College in 1960, he earned two master's degrees, taught in the Indiana Public Schools and was an art professor for over 30 years at Goshen College. Today, Hershberger and his wife, Anne, live in Goshen where he continues to produce, show and sell his artwork.
Hershberger uses acrylic paints and silk-screened prints to create multimedia pieces. He fuses together images of his rural childhood with abstract and colorful shapes. His pieces have appeared at international exhibitions such as ArtPrize in Grand Rapids, Michigan, and have been featured in exhibits across the country.
The Hershbergers' daughter Kay Hershberger, a 1988 GC graduate, was the first to suggest an archival project of her father's artwork. She visited her parents last summer to help her father organize his accumulated works and, while there, discovered a large collection of private works that had never been seen by the public.
"It was a discovery process," said Kay. "Pulling out his old portfolios and all those drawings, sketchbooks and watercolors made me realize how much he had created that I had never seen before."
During the photography stage, Kay has acted as an art handler, or the coordinator for lining up artwork to be photographed.
"Assisting in the photo shoot gave me the opportunity to get an overview of the variety of works in his private collection," said Kay. "I was able to acquire some additional insights on his stylistic evolution."
Though the Hershbergers will not be able to collect photographs of all of Abner's pieces, since many of them have been gifted or belong to private buyers, they plan to find and photograph most of his public pieces.
"Beyond doing an inventory, our goal is to document selected works. This documentation project may lead to an eventual published catalog," said Kay.
If the project does lead to a catalog, the Hershbergers hope to host an exhibit and make the catalog available to the public.
– By Liz Core