President Brenneman opens school year with call to be greener global citizens
---
Related links:

View photos from the applause tunnel following the opening convocation
Read the full text from the president's speech, "Citizens of Earth and Sky"
---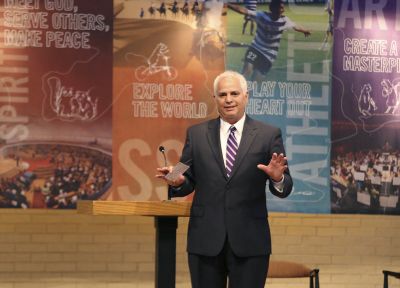 Goshen College President James E. Brenneman opened the 2014-15 school year with an invitation for students and employees to expand their understanding of the college's core value of "global citizenship."
Brenneman noted that a primary understanding of global citizenship is that of people-to-people diplomacy and intercultural relationships, which the college has excelled at and focused on throughout its history. But, he said, "to be a global citizen first and foremost is to desire to experience, understand and steward the many and varied multi-cultures – the bio-diversity – of the natural world around us."
Speaking on Wednesday, Aug. 27 at the first all-campus convocation of the 2014-15 academic year, the president encouraged all to pay attention to the pulse of life, to learn from nature and to take action that cares for all of creation during an address titled "Citizens of Earth and Sky."
Brenneman, a 1977 graduate of Goshen College who was reappointed this summer to a third term, noted three ways to become this type of global citizen.
"First, to be a global citizen in its truest sense, we must become the animals we were born to be," he said. "We must somehow regain the gift of 'paying heed to our directly felt experience' of life throbbing and pulsating around and through us."
Second, "we must also learn how better to eavesdrop on creation, to listen to and learn from 'the rocks and trees, the skies and seas' and everything in between," Brenneman said, pointing to the new interdisciplinary field of biomimicry as an example of learning from nature.
Finally, Brenneman said, "Earth and sky citizens are called to paint the world green. At GC, we have 50 shades of green and more," offering examples of river cleanups, native landscaping, green energy purchasing, solar-powered water heaters, and the college's 1,189-acre Merry Lea Environmental Learning Center.
Global citizenship is one of the college's core values and the focus for the year on campus of in-depth reflection, discussion and engagement. The college's other core values are Christ-centeredness, servant leadership, passionate learning and compassionate peacemaking, and each year the college focuses on a different core value.
Fall enrollment
With enthusiasm and excitement, new and returning students began fall semester classes on Aug. 26. On Saturday, Aug. 23, the Class of 2018 arrived for orientation and New Student Days, where they moved into their residence halls, met their classmates and became acquainted with the campus.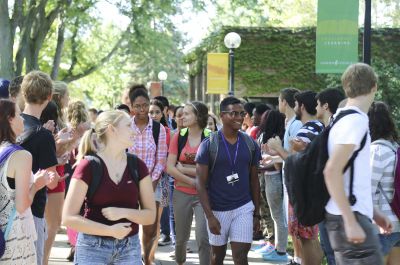 Goshen has the most diverse first-year class the college has had, with almost 35 percent of traditional students identifying as non-white. The total number of new students on campus this fall is 192, including first-year traditional and students who are either transfer students, were readmitted or have returned for a second undergraduate degree.
The college experienced enrollment growth in both the adult programs and the graduate programs. Seventy-nine students (compared to 55 last year) are in the college's adult degree completion and accelerated programs. As well, 68 students (compared to 60 last year) are pursuing master's degrees in one of Goshen's four graduate programs — Nursing (Family Nurse Practitioner), Environmental Education, Intercultural Leadership and the new Collaborative MBA.
Fall 2014 enrollment statistics at Goshen College show a total head count of 842 students. The total enrollment is down primarily due to the graduation of a larger class last year.
Retention – a key measure of student satisfaction – continues to be stable and very strong at Goshen College. The latest figures show that 77 percent of the 2013-14 first-year students are enrolled this fall, the same as last year.
"We are very pleased with the quality and diversity of students that we continue to attract, and that our high retention indicates that we are recruiting students who are a good fit and who are having a very positive learning experience," said Brenneman. "We are also very optimistic about future enrollment growth because of a number of changes we are making."