Professor Emeritus of English John Fisher, 88, passes away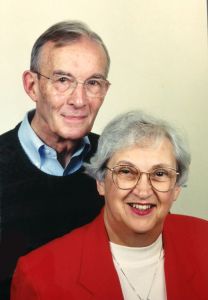 John J. Fisher, professor emeritus of English, who taught at Goshen College for 39 years, died at his home at Waterford Crossing early Monday morning, July 28. He was 88 years old. 
Fisher was born in Bloomsburg, Pennsylvania, and graduated from Goshen College in 1948 with a degree in English. He earned a master's degree in English from the University of Pennsylvania before returning to Goshen College to teach. Fisher taught in the English department at Goshen College from 1953-1992.
"He was the one in our department whose patience and encouragement with struggling students was most continuous and noteworthy," said Wilbur Birky, professor emeritus of English and international education at GC. "His quiet sense of humor was always present, which along with steady encouragement, was felt most appreciatively by department colleagues. He was an 'idea person,' always ready with innovative or creative ideas."
In 1971, Fisher began leading a course in Ireland on poetry and peace. He continued teaching this class frequently until 2001. Fisher was instrumental in bringing a number of important Irish writers to the GC campus, including Nobel Prize winner Seamus Heaney, Paul Muldoon and Peter Fallon.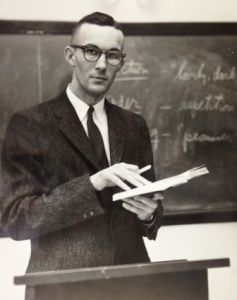 "I remember taking an Irish literature class with John in 1978, with our time divided between Dublin and the Wicklow Mountains and the western coast," said Duane Stoltzfus, professor of communication at Goshen College and a 1981 GC alumnus. "He encouraged us to engage the texts in imaginative ways. One night the class presented Yeats' 'Dreaming of the Bones' by candlelight. It was magical."
After his retirement in 1992, he was fully engaged in Seniors for Peace and in giving leadership to the JustPeace Seminar series, and continued to be an active participant in Mennonite writing conferences and local continuing education lectures. Fisher was an active member of College Mennonite Church.
John is survived by his wife of 66 years, Pauline (Clemens) Fisher '48, as well as two daughters, Susan (Lee) Fisher Miller '79 of Evanston, Ill., and Margaret (Jeff) Aeschliman '87 of Salem, Ore., and five grandchildren.
Visitation is on Friday, Aug. 1 from 2-4 p.m. and 6-8 p.m. in the Gathering Room at College Mennonite Church. A funeral service will take place on Saturday, Aug. 2, at 3 p.m. at College Mennonite Church.