Storyteller John Ruth to offer April lecture at Goshen College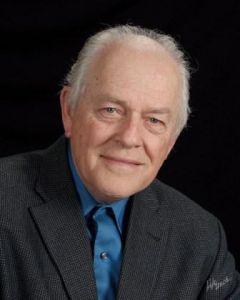 Lecture: John Ruth, author of "Branch: A Memoir with Pictures"
Date and time: Thursday, April 24 at 7 p.m.
Location: Goshen College's Newcomer Center Room 17
Cost: Free and open to the public
Sponsor: Goshen College English Department and the Mennonite Historical Society 
"A first-born and only son, I opened my eyes in a sprawling 122-year-old farmhouse along a pleasant creek in southeastern Pennsylvania," writes Mennonite historian John Landis Ruth in "Branch: A Memoir with Pictures." As 83-year-old Ruth tells his story through photos and essays, readers get a rich glimpse of his life but also the Mennonite family and community in which he was raised.
Ruth will offer a lecture about his new memoir, "Branch," in Goshen College's Newcomer Center Room 17 on Thursday, April 24 at 7 p.m. A reception will follow the lecture, during which books will be available for purchase and signing. The event is free and open to the public.
Ruth's coffee table-style book features full-page photos paired with intimate mini-essays, rich with detail, from every year of his adult life. "Branch" is the story of one life, but also a window into a family and the wider Mennonite community.
Born on a farm in Montgomery County, Pa., Ruth, at the age of 20, was chosen to be a Mennonite minister by the casting of lots. Subsequent studies took him to Harvard, where he earned a Ph.D., and he later became a professor of English at what is now Eastern University in St. Davids, Pa., with a sabbatical as guest professor of American literature at the University of Hamburg, Germany.
An ordained minister, noted historical storyteller and popular heritage tour leader, Ruth has been researching, writing and communicating the Anabaptist-Mennonite story for more than 60 years.
Ruth's other books include "Conrad Grebel, Son of Zurich" (1975); "'Twas Seeding Time: A Mennonite View of the American Revolution" (1976); "Maintaining the Right Fellowship: A Narrative Account of Life in the Oldest Mennonite Community in North America" (1984); "The Earth is the Lord's: A Narrative History of the Lancaster Mennonite Conference" (2001); and "Forgiveness: A Legacy of the West Nickel Mines Amish School" (2006).
Other area book signings:
Friday, April 25, 7 p.m., Greencroft Retirement Community, Goshen
Monday, April 28, 7 p.m., Das Dutchman Essenhaus, Middlebury, Ind.
Tuesday, April 29, 7 p.m., Mennohof, Shipshewana, Ind.