Poet Julia Kasdorf to offer workshop, poetry reading at Goshen College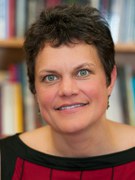 Poetry Reading: Julia Spicher Kasdorf
Date and time: Wednesday, April 30 at 7:30 p.m.
Location: Goshen College Church-Chapel's Koinonia Room
Cost: Free and open to the public
Sponsor: Goshen College English Department
Award-winning poet Julia Spicher Kasdorf will offer a poetry reading in the Church-Chapel's Koinonia Room on Wednesday, April 30 at 7:30 p.m. A reception will follow the reading, during which books will be available for purchase and signing. The event is free and open to the public. 
Kasdorf will also serve as the guest writer for the annual Goshen College English Department writing workshop from April 28 through May 2. Students in this workshop will give a reading from their work on Friday, May 2, at 6 p.m. in the Church-Chapel's Koinonia Room.
Kasdorf was born in Lewistown, Pa., and grew up in Irwin, Pa. Her most recent book is a collection of poems, "Poetry in America," published by the University of Pittsburgh Press in 2011. With Michael Tyrell, she co-edited the anthology "Broken Land: Poems of Brooklyn," published by NYU Press in 2007.
Kasdorf attended Goshen College and received her B.A., M.A., and Ph.D. from New York University.  Her awards include the Agnes Lynch Starrett Poetry Prize and the Great Lakes College's Association Award for New Writing for her first book of poems, "Sleeping Preacher." The Library Journal ranked her second collection of poems, "Eve's Striptease," among the best books of poetry for 1998. She received a Pushcart Prize and an NEA fellowship in poetry, and The Conference on Christianity and Literature granted its book of the year award to her collection of essays, "The Body and the Book:  Writing from a Mennonite Life."
Kasdorf is associate professor of English and women's studies at Penn State University, where she teaches creative writing and oversees the Writer in the Community project. She also serves as poetry editor for Christianity and Literature. She is currently working on a multi-genre project on the topic of sacrifice.
Her scholarly work includes the biographical study, "Fixing Tradition: Joseph W. Yoder, Amish American." With Joshua R. Brown, she edited Yoder's regional classic, "Rosanna of the Amish," and Fred Lewis Pattee's local color romance "The House of the Black Ring."