The millionaires next door
Norman family honors late daughter, sister with endowed scholarship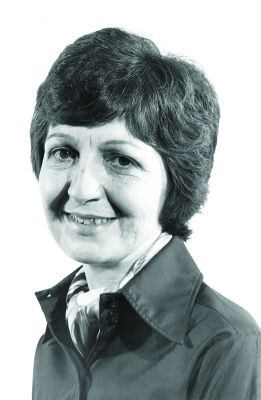 Paul and Alma Norman were products of the Great Depression. Paul was a maintenance man in Fort Wayne, Ind., and Alma raised their two daughters, Margaret and Bettie. The family got by with modest means.
So when their daughter Margaret, the last remaining member of the Norman family, died last year just shy of her 93rd birthday, and left everything to Goshen College, the number of zeros in the final check came as quite a surprise. When all was said and done, Margaret's gifts added up to $1.5 million.
"As far as how they managed to amass such a sum of money, that was never discussed," said Theresa Noll, a close family friend. "Nobody knew that they had saved so much. From looking at old papers found in Margaret's belongings, it appears as though by living frugally and investing wisely, the power of interest and reinvesting worked its magic."
Bettie's story
The Normans' youngest daughter, Bettie, found her way to Goshen College in 1951, where she studied music. She went on to earn a master's degree in string pedagogy from the University of Michigan and spent several years teaching music in public schools. In 1962, she began teaching part-time in the Goshen College Music Department. Five years later, she was diagnosed with cancer, which she battled for more than a decade. She died at age 45, surrounded by the GC community that had become a second family to her.
"Bettie was a friend and a colleague for all seasons," wrote Lon Sherer, a fellow music professor at the college, after Bettie's death. "You could laugh or cry with Bettie, for she was one of those lovely people who have insight, empathy and sensitivity. She was a fine teacher, imaginative and thorough. … Her way of relating to people was extraordinary – and many people, very young and very old and in between, considered her a special friend."
The Normans were so touched by the love and support that came from Goshen College during Bettie's final years that they decided to set up a scholarship in her name. A year after Bettie's death, the Norman family contributed $20,000 to begin the Bettie Norman Memorial Scholarship, which primarily aids students who study music.
"When Bettie died, they were so grief stricken it only seemed fitting to honor her memory by establishing the scholarship fund at Goshen. Eventually, that became their legacy to their beloved daughter and little sister," Noll said.
For the next 34 years after Bettie's death, her sister Margaret faithfully supported Goshen College students by making small contributions to the Goshen College Fund and to Bettie's scholarship. However, her modest donations gave little indication of the large gift that was on the way.
Passing down values
"The Norman family lived so simply and saved a lot of money so that they could give it away," said Jim Caskey, vice president of institutional advancement at the college. "It was Bettie's commitment to the college, and the college community surrounding Bettie, that really changed this family. They weren't Mennonite, but they started attending First Mennonite Church in Fort Wayne, and they wanted those kinds of values to go forward through Bettie's scholarship here."
The Normans believed in being good stewards of what they were given, however little it was. For example, the house they bought when Bettie was a child was the same house the family lived in until Margaret moved to a retirement community.
"Nothing was replaced until it could no longer be repaired," Noll said. "Curtains and old clothes became quilts or pillows and everyone knew how to sew, knit, crochet and tat lace. As much food as possible was home-canned, and supplies were purchased only when they were on sale. They just used basic common sense when it came to handling their finances. Money was not to be taken lightly nor spent foolishly."
Because the Norman family lived beneath their means and invested wisely, Bettie's legacy is being passed on to future generations of students.
"Thanks to Bettie, Mr. and Mrs. Norman and Margaret, the spirit of joy unleashed by such generosity will be shared by many Goshen College students with financial need, who will be able to pursue their dreams for generations to come," said Jim Brenneman, president of Goshen College. "They faithfully managed the money God entrusted to them."
– By Brian Yoder Schlabach '07