GC named Indiana Radio School of the Year for third year in a row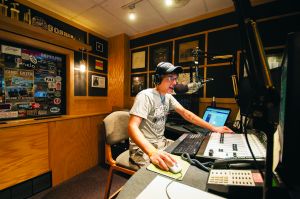 For the third consecutive year, Goshen College was named Radio School of the Year in the 2014 Indiana Association of School Broadcasting's (IASB) college broadcasting competition.
The college also scored the second highest number of points for Indiana Television School of the Year, narrowly missing a similar three-peat. In 2012 and 2013, the college won School of the Year awards in both radio and television.
Goshen College broadcasting students also won 22 other radio and television awards in the competition, including five first-place honors.
Radio awards
Goshen's on campus radio station, 91.1 The Globe, is run by Goshen students and community volunteers. The station provides 24-hour programming, including music, news, public affairs and sports.
"This is a significant accomplishment for our students, to win three years in a row," said Jason Samuel, WGCS general manager and assistant professor of communication. "Our ability to plug students in right away, to help them find out what they want to do and make them a part of a successful program, it gives them so many tools in their belt to make them the best broadcasters they can be."
First place
Radio Imaging: Danielle Kerschhackl (a junior broadcasting and American Sign Language double major from Elmwood Park, Ill.), Andrew Witkowski (a senior broadcasting major from Goshen), and Abby Deaton (a senior communication major from Indianapolis)
Radio Newscast: Goshen College news team
Radio In-Depth: Ashlee Evans (a sophomore broadcasting major from Plymouth, Ind.), and Danielle Kerschhackl
Second place
Radio Spot Production: Ashlee Evans
Radio News Report: Danielle Kerschhackl
Radio Air Personality: Ashlee Evans
Radio Interview: Dalton Shetler (a freshman broadcasting major from Spencerville, Ind.)
Radio In-Depth: Dalton Shetler and Shane Miller (a senior journalism and broadcasting major from Goshen)
Third place
Radio Sportscast: Tony Miller (a senior broadcasting major from Goshen)
Radio Play-by-Play: Tony Miller
Radio Copywriting: Mikhail Fernandes (a sophomore music major from Hyderabad, India)
Radio Air Personality: Andrew Witkowski
Radio Drama or Skit: Bryan Palmer (a sophomore American Sign Language major from Elmwood Park, Ill.), and Ashlee Evans.
Television awards
The Correspondent is the college's bi-weekly television news broadcast produced by Goshen College students and distributed via the campus cable system and the Internet. Assistant Professor of Communication Seth Conley is the adviser for The Correspondent.
"We are thrilled that the Correspondent was named 'Best News Magazine,'" Conley said. "It's an example of how hard our students work to tell the stories from campus and from the community. I'm proud of their continued hard work and success, which is beneficial to their future careers."
"I'm really impressed with our students, especially considering that Ball State's entire communication department is larger than our college," said Kyle Hufford, general manager at FiveCore Media, the college's video production company. "A lot of the individual awards were for the Correspondent, which is made up of almost all student volunteers. There's something to be said about that. Other schools are doing these things for class work and earning credit or being paid. Our students are doing this on top of their coursework, which shows how passionate they are."
First place
Video Magazine: Abby Deaton
Copywriting: David Leaman-Miller (a freshman communication major from Denver, Colo.)
Second place
Music Video: Benson Hostetter (a junior communication major from Harrisonburg, Va.)
Television Newscast: Abby Deaton and Jared Zook (a junior communication major from Canton, Ohio)
Television Anchor: Benjamin Kelly (a 2013 graduate with a degree in broadcasting)
Third place
Television Spot Production: Ben Smith
Television News Package: Isaac Fast (a senior journalism major from Newton, Kan.)
Television Non-News Program: Benjamin Kelly
Entertainment Video: Benjie Aguilera Brown (a junior communication and theater major from Asuncion, Paraguay)
Copywriting: Danielle Kerschhackl
A complete list of the IASB School of the Year award winners for the past 10 years:
Radio
2014    Goshen College
2013    Goshen College
2012    Goshen College
2011    University of Indianapolis
2010    University of Southern Indiana and Valparaiso University (Co-Winners)
2009    University of Southern Indiana
2008    Valparaiso University
2007    University of Indianapolis
2006    Valparaiso University
2005    University of Indianapolis
Television
2014    Ball State University
2013    Goshen College
2012    Goshen College
2011    Ball State University
2010    Goshen College
2009    Ball State University
2008    University of Indianapolis
2007    Ball State University
2006    Ball State University
2005    Ball State University
Related: