Exhibit highlights commemorative quilts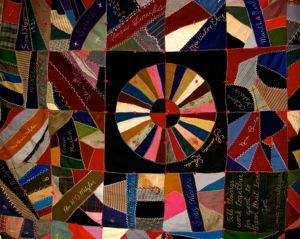 Art exhibit: Commemorative Quilts
Reception date and time: Sunday, March 16, 3-5 p.m. (exhibit open March 16 through July 27, 2014)
Location: Goshen College's Harold and Wilma Good Library Gallery
Cost: Free and open to the public
Sponsor: The Mennonite-Amish Museum Committee
Old and recent Mennonite and Amish quilts that record and honor significant life events will be on display in the Harold and Wilma Good Library basement gallery at Goshen College. The exhibit opens on Sunday, March 16 and will be on display through July 27, 2014. A reception will take place on Sunday, March 16, 3-5 p.m., in the Good Library Gallery.
The quilts were created to celebrate birthdays, graduations, weddings, anniversaries, disasters, retirements, deaths or other notable life markers. Patterns include samplers, "crazy patch" and embroidered squares, as well as original designs. The makers, recipients and events are documented with background stories and photographs.
Two of the oldest quilts in the exhibit are "crazy patch" friendship quilts, one made in 1903 bearing the signatures of Mr. and Mrs. J. M. Smucker, founders of the Smucker preserves company, and one made in 1921 for the Ira and Emma Loucks Christophel family, near Wakarusa, following a devastating household fire.
One of the more recent quilts is a necktie quilt made in 2006 by Kent Beck in memory of a beloved mentor, Ellis Croyle. Another is a "Psalms Quilt" of original design, with 25 appliqued squares, each standing for a different Psalm. It was made by Carol Honderich to commemorate the 45th annual Michiana Mennonite Relief Sale.
The exhibit is sponsored by the Mennonite-Amish Museum Committee. The exhibit is open during library hours, which vary throughout the school year. See the Good Library website for current hours.