Feel the beat during the March 11 Afternoon Sabbatical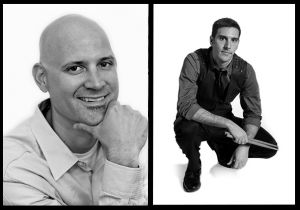 Afternoon Sabbatical: "Percussion a la Carte" by Dr. Christopher H. Fashun and Ben Runkel
Date: Tuesday, March 11, 2014, 1 p.m.
Location: Goshen College Music Center's Sauder Concert Hall
Cost: Free and open to the public
Dr. Christopher Fashun and Ben Runkel will offer a percussion performance of various genres and sound combinations, including both Western and Brazilian percussion, during the March 11 Afternoon Sabbatical at Goshen College. The program will take place at 1 p.m. in the Music Center's Sauder Concert Hall and is free and open to the public.
During the first half of the 20th century, composers turned to the field of percussion for its endless possibilities of timbres and instruments. Through a rapid evolution, percussionists soon sought to establish their own solo and chamber repertoire. In addition to high profile soloists, university programs across the United States began to establish percussion ensemble programs, which increased the demand for percussion repertoire significantly. What began as a lineage from the Western Classical tradition is now open to sounds of world percussion and other cultures, as well as various combinations of percussion and non-percussive voices.
Fashun is an assistant professor in the Goshen College Music Department, where he conducts the Symphony Orchestra and Lavender Jazz ensemble, oversees the music education program, teaches applied percussion and conducts the orchestras for musicals and opera. In the fall of 2014 he will be directing the new GC All-Campus Band. Fashun is an accomplished percussionist and violinist, and during the past decade he has concentrated his study of world percussion in Brazilian and Afro-Brazilian music and dance. Fashun earned a bachelor's degree in music education from Saint Olaf College (Northfield, Min.) and a master's degree in percussion performance from the University of Wisconsin-Madison. He holds a doctorate in orchestral conducting from the University of Iowa.
Runkel is a percussionist, educator and composer who performs regularly as a soloist, chamber and orchestral musician. He currently serves as the percussion specialist for Concord Community Schools, where he directs and coordinates instruction and performance for percussion students at all grade levels. Runkel earned a bachelor's degree in music performance and music education from Northern Illinois University.
Future programs in the 2013-14 Afternoon Sabbatical series include:
Tuesday, April 1, 2014, 1 p.m., Goshen College Music Center's Sauder Concert Hall"
"Breaking Down Barriers: Journeys of the Apostle Paul" by Seth Conley, Kyle Hufford and Bob Yoder
Free and open to the public
Tuesday, May 13, 2014, Spring Bus Trip
"Chicago in the Gilded Age," includes visits to several sites and high tea.
Call (574) 535-7565 for more information.