Clay artist Scott Dooley offers 2014 Eric Yake Kenagy Visiting Artist lecture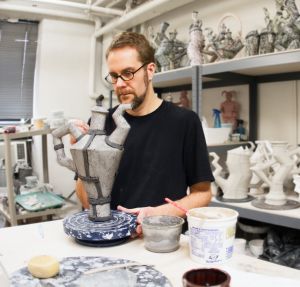 Eric Yake Kenagy Visiting Artist Lecture: Scott Dooley, potter
Lecture date, time and location: Wednesday, March 5, 7:30 p.m. in Goshen College Administration Building Room 28. A public reception will take place immediately after the lecture in the Goshen College Administration Building Room 20.
Cost: Free and open to the public
Born and raised in Kansas, Scott Dooley discovered a love for clay as a senior in college, and has been a potter ever since. He is the Goshen College Art Department's 2014 Eric Yake Kenagy Visiting Artist and will deliver a public lecture on Wednesday, March 5 at 7:30 p.m. in the Administration Building Room 28, with a reception immediately following in the Administration Building Room 20. The presentation and reception are free and open to the public.
The starting point for Dooley's clay vessels are metal artifacts from the rural Midwest landscape where he grew up. The metal objects that inspire him, ranging from large silos to small oilcans, became more visible after he left that environment and returned later to see it with a new perspective.
"I find these objects amazingly simple in form and construction, as well as incredibly beautiful," Dooley said. "The essential characteristics of these objects are used as my basis for construction."
Dooley's teapots, ewers and bottles have references to the processes associated with assembling sheet metal and to the natural forces of wear and corrosion that ultimately break them down. They celebrate the ingenuity of their makers and the strength of environment that slowly reclaims them. But within that cycle, Dooley's artwork is filled with imagination and play. Pieces seem to extend, grow and dance.
Dooley has an extensive exhibit record, with work in shows across Europe, Asia, Australia and the U.S. Images of his work illustrate ceramics textbooks and periodicals. The Gloria and Sonny Kamm Teapot Foundation, the Ron Pizzuti Collection, the Yixing Ceramics Museum (China), the Museu de Ceramica de Manises (Spain), the Taipei County Yingge Ceramics Musuem (Taiwan), and many others include his work in their permanent collections.
Dooley graduated from Bethel College in 1993 with majors in history, philosophy and German. After college, he worked for a production potter for a year and then moved to Arizona, where he attended Arizona State University and pursued art. In 2000 he graduated with his Master of Fine Arts in ceramics from Kansas State University. He is currently chair of the art department at Wittenberg University in Springfield, Ohio.
The Eric Yake Kenagy Visiting Artist Program honors the late Eric Yake Kenagy, who was a gifted ceramics student at Goshen College from 1984 until his death in 1986.