New marketing, computing, education majors to be offered at Goshen College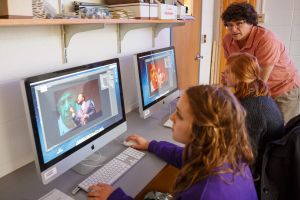 Changes are coming to Goshen College's course catalog, with new majors and minors being added for the fall of 2014.
A new marketing major and minor will be offered through the business department. The marketing major will consist of a mix of existing courses from the business, art, communication and English departments, which address topics such as advertising, sales, design, storytelling, technology, writing and other marketing strategies. Several Goshen College alumni who work in the marketing field provided feedback in shaping the curriculum and courses in the new major. These changes were made in response to interest from both current and prospective students.
Michelle Horning, chair of the business department, explained that while the college did not have an official marketing program, previous students could design their own course of studies.
"But that's not a very good answer for prospective students," Horning said. "A lot of times they look at a list and think 'they don't have a marketing major, so I'm not interested.'"
The business department will also collaborate with the mathematics department to offer two new majors and minors. Computer science and information technology majors will follow paths similar to the current informatics major, but students who study computer science will take additional math, science and computer programming courses, while students who study information technology will focus more on communication and preparing for careers in a computer-related field. The informatics program will remain unchanged.
Another new major will result from collaboration between the education department and the TESOL (teaching English to speakers of other languages) program. A new elementary education/English learners major and dual licensure program will be offered to students who want to work in an elementary school setting with diverse populations. The program was established in 2003, but wasn't an official major until now. Licensed graduates will be recognized by the Indiana Department of Education.
Other changes to the course catalog include:
The Bible and religion department will offer a new minor, theological studies and Christian ministries. Additionally, the youth ministry minor will no longer be offered.
The history department will add two minors, political studies and pre-law, which are foundational for students who are seeking careers in government, law and advocacy. These new minors will emphasize an interdisciplinary approach, including logic, problem solving, constructing arguments, writing, speaking and reading skills, and knowledge of political and legal systems.
In order to broaden the scope of the women's studies program, it will be renamed as women's and gender studies. The word "gender" will be included to make the program more accessible to male students and reflect the range of gender differences, rather than focus exclusively on women.
Students will be able to declare any of these majors or minors starting this fall.
–  By Kelley Scholfield/Goshen College