Speech on 'the welcome table' wins peace oratorical contest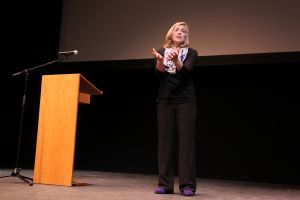 Five Goshen College students gave speeches about issues close to their hearts during the college's 2014 C. Henry Smith Peace Oratorical Contest on Feb. 18.
The speakers included Abby Deaton, a junior communication major from Indianapolis; Alma Rosa Carrillo Flores, a freshman nursing major from Mexico City, Mexico; Martin Hofkamp, a senior peace, justice and conflict studies major from Peabody, Kan.; Lauren Treiber, a senior peace, justice and conflict studies major from Grand Rapids, Mich.; and Natasha Weisenbeck, a senior public relations major from Clifton, Ill.
Speaking on "The welcome table: Discussing Goshen College's hiring policy," Deaton won the top prize of $500 and a chance to enter her speech in the bi-national intercollegiate oratorical contest. Her speech highlighted the college's current hiring practices, which does not include the hiring of LGBTQ people in covenanted, same-sex relationships.
Deaton, a leader of GC Open Letter, a group of students, alumni and staff who are working to prompt change in the current hiring practice, called the campus community to open the doors to discussion.
"This is not just about money or enrollment, this not just about theology or church practices," Deaton said. "When you strip away the arguments, the complications, the reasons for or against, you are left with people. You are left with people who are talented and passionate. You are left with people who know and show God's love. You are left with people who are being left out."
Deaton was runner-up in the 2013 contest, speaking on "Making peace with warriors," focusing on the rising need for healthcare for returning soldiers and veterans. She also participated in the 2012 contest.
Martin Hofkamp was runner-up, speaking on "Juveniles in adult prisons." Drawing on his own experiences working with incarcerated youth in Elkhart County, Hofkamp informed the audience of young people who are being tried as adults and their struggles to reach their full potential.
"Comprehensive intervention is five times more cost effective at preventing crime than warehousing people, especially youth, for years, decades, entire lifetimes," Hofkamp said. "As societies we must seek to understand and engage with historical cycles of oppression resulting in this crisis."
Coming in third place, Treiber spoke on "A case for faith-feminism: Women are disciples too."
As a sophomore, Treiber won the 2012 Goshen College contest and won first prize in Mennonite Central Committee's bi-national contest.
Tied for fourth place were Flores, who spoke on "Ciudad Juarez female laborers: Victims of femicides," and Weisenbeck, who spoke on "Saving Africa from the media: replacing aid with collaboration."
The judges for the contest included Melissa Kinsey, environmental education director for Camp Friedenswald in Cassopolis, Mich.; Jameson Lingl, coordinator of young alumni and student engagement for Goshen College; and Cindy Voth, pastor of community life at Waterford Mennonite Church in Goshen. Pat Lehman, professor of communication, and Lassane Ouedraogo, a senior public relations major, directed the contest.
Speech contests have been part of Goshen College's history since the early 1900s; the C. Henry Smith contest allows the campus community to hear more about relevant, contemporary issues related to peace. For an archive of past winners, visit www.goshen.edu/communication/about/contest.