Goshen College and Fort Wayne Philharmonic team up to teach and entertain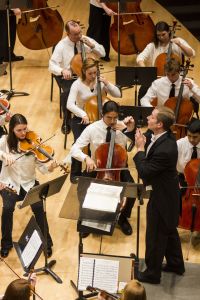 The Goshen College Music Center and Fort Wayne Philharmonic have struck up a relationship that will result in three exciting events this spring and lead to ongoing collaborations in educational outreach and performance.
"This is a collaboration that has been in the dream stage for several years," said Marcia Yost, the Music Center's executive director. "It is exciting to see the vision unfold."
The first of these collaborative events will bring Maestro Andrew Constantine, music director of the Philharmonic, to the Music Center on Sunday, Feb. 2 to lead a pair of afternoon workshops with area high school instrumentalists from the Elkhart County Youth Honors Symphony Orchestra (YHSO).
Born and educated in Britain, Andrew Constantine gained acclaim as a skillful and charismatic conductor, and in 2004 he moved to the United States to become assistant conductor of the Baltimore Symphony Orchestra. In 2009 he was appointed music director of the Fort Wayne Philharmonic.
Constantine will bring a string quartet from the Philharmonic, and together they will explore the topic of "listening to the middle" with YHSO musicians during two afternoon sessions on Feb. 2. Area ensemble directors and interested persons are also invited to observe the workshop sessions, which will take place at 1:30 p.m. and 4 p.m. at the Goshen College Music Center. For more information, contact Rosalyn Troiano, program director for the Youth Honors Orchestras, at 574-535-7908.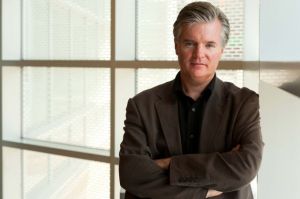 Directed by Josh Aerie, the YHSO is made up of over 50 talented students from throughout Elkhart County. The orchestra has worked on challenging repertoire and development of ensemble skills under Aerie's leadership, which began this past fall. This workshop, which is the first of its kind since the YHSO came to Goshen College three years ago, is presented through the Sherer Preparatory Music Endowment fund.
"The Youth Honors Orchestra is honored to partner with Maestro Constantine and the Fort Wayne Philharmonic," Aerie said. "The artistry and expertise they bring to work with our symphony players will undoubtedly enhance the YHSO's mission to provide a high-level orchestral experience for talented young musicians."
The Youth Honors Symphony Orchestra for students in grades 9-12 and the Youth Honors Concert Orchestra for grades 7-9 are both open to new members by audition. More information about the YHO program is online at www.gcmusiccenter.org/yho or can be obtained by calling the Music Center at 574-535-7361.
Further spring collaborations between the Music Center and Fort Wayne Philharmonic include Fort Wayne's FREIMANN musicians presenting chamber music this Sunday, Jan. 26, at 4 p.m. in the Music Center's Rieth Recital Hall, and the Philharmonic's Performing Arts Series concert in the Music Center's Sauder Concert Hall on Friday, April 11.