New all-campus band will provide more opportunities for Goshen College students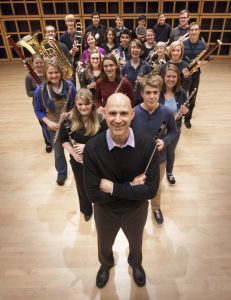 A new all-campus band will provide a fresh musical outlet for Goshen College students starting in the fall of 2014. The band, which will be an inclusive, non-auditioned ensemble, will perform in concert as well as serve as a pep band for select athletic and other campus events.
Drawing on the region's strong high school band culture, the all-campus band will provide new opportunities for wind, brass and percussion musicians. Dr. Christopher Fashun, assistant professor of music, will direct the band.
"I am incredibly enthusiastic about the Goshen College all-campus band," Fashun said. "Over the past couple of years, I have come to realize that we have several students who play wind and percussion instruments that come from excellent high school band programs. The all-campus band will provide these students a creative and fun outlet to continue their participation in music with a time commitment that can be balanced with students' other academic responsibilities."
In addition to the all-campus band, Fashun currently conducts the Symphony Orchestra, oversees the music education program and teaches applied percussion. Fashun holds a Bachelor of Music degree in music education from Saint Olaf College in Northfield, Minn., where he studied conducting and viola. He received his Master of Music degree in percussion performance from the University of Wisconsin-Madison, and holds a Doctor of Musical Arts in Orchestral Conducting from the University of Iowa.
Fashun's conducting experience includes leading orchestras and wind bands at the high school and middle school levels and directing jazz ensembles, percussion ensembles and drumlines at the high school level. He is an active clinician with middle and high school orchestras, percussionists and jazz ensembles, and frequently serves as an adjudicator for large group music festivals.
Chris French will replace Fashun as the new director of Lavender Jazz, Goshen College's big band, which will continue as a music department ensemble. French, an active jazz and classical musician in the region, teaches saxophone and clarinet at the college and will also coach jazz combos in his role.
Music scholarships are available by audition to first-year students who plan to major or minor in music or music education. Awards range between $2,000 to $10,000 annually, and all instruments and voice parts are encouraged to apply. Contact the Music Center at music@goshen.edu for more information.
The Goshen College Music Department cultivates excellence in musical performance, pedagogy and scholarship. Students have an opportunity to participate in one of Goshen College's many ensembles, which perform in the Music Center's state-of-the-art Sauder Concert Hall and Rieth Recital Hall. Music majors can concentrate in music performance, music education, piano pedagogy or music in worship. Find out more at www.goshen.edu/music.