New book tells story of Hutterite conscientious objectors persecuted during World War I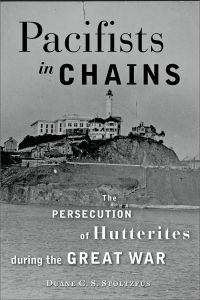 Nearly a century later, the story of four Hutterite pacifists imprisoned for their beliefs during World War I is told in detail in a new book titled "Pacifists in Chains: The Persecution of Hutterites During the Great War" (The Johns Hopkins University Press, Nov. 2013). The book is written by Duane C. S. Stoltzfus, professor of communication at Goshen College.
Stoltzfus explores the tension between a country preparing to enter into a world war and a people whose history of martyrdom for their pacifist beliefs goes back to their 16th-century Reformation beginnings. The book chronicles the experience of four Hutterite men who were conscientious objectors, starting in the spring of 1918 when they were drafted, and ending after their year of imprisonment, during which time two of the men died. Throughout the book Stoltzfus sheds light on their story, including the history of the Hutterites, their struggle to escape persecution in Russia and their new beginning in the American West.
When Stoltzfus first encountered the story of the Hofer brothers, Joseph, Michael and David, and their brother-in-law, Jacob Wipf, he knew that it was a story worth telling.
"In the early going in my research, I discovered that their story had been shared only in brief," Stoltzfus said. "A key moment came when I was able to make contact with family members of one of the three brothers, on a Hutterite colony in Montana."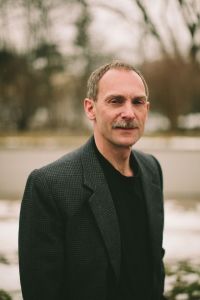 The granddaughter of Michael Hofer revealed that the family was still in possession of letters from the men. This was the start of six years of research and writing for Stoltzfus, who later made trips to the Hofers' home colony in South Dakota. He followed their journey from Fort Lewis in Washington, to Alcatraz prison and finally Fort Leavenworth, where two of the brothers died.
"In all these places, if I could enter inside, I would," Stoltzfus said. "So in Alcatraz, I went down in the dungeon with a headlamp on, courtesy of someone in the Parks Service. It was this very dungeon in which the men were chained, fed only bread and water, while rats scurried in the darkness and days and nights were indistinguishable."
Stoltzfus expressed gratefulness to the family of his subjects, who graciously allowed him to enter their lives to tell this story.
"I would hope that they are pleased with the book," Stoltzfus said. "On the one hand there is a reluctance for the family to share the story because they don't want it to appear that they are lifting up some members of the community above others. Yet I think there is a recognition that this is a really significant, and in some ways exceptional story because of what they went through, and that it is important, not just for the community, to share this story."
Hutterites are a communal people, one of the many denominations that arose during the Anabaptist reformation. Like Mennonites, Hutterites are committed pacifists, so much so that many refused to serve when drafted, even as noncombatants. Stoltzfus noted one belief that sets this group apart: "The Hutterites read the Book of Acts in a way that the Mennonites never did. The Hutterites read the directive that believers should hold all things in common and said 'OK, we will share all of our belongings.'"
In a review, Michael G. Long, editor of "Christian Peace and Nonviolence: A Documentary History" said, "'Pacifists in Chains' is a first-rate contribution to the understudied history of conscientious objection and religious persecution in the United States. Duane Stoltzfus' scholarship is excellent, his writing is beautiful and his narrative of Hutterites bearing witness to their nonviolence is poignant. A learned study and an inspiring read.
This is Stoltzfus' second book. He authored "Freedom from Advertising: E.W. Scripps Chicago Experiment" in 2007. He graduated from Goshen College in 1981, received a master's degree from New York University in 1988 and a PH.D. at Rutgers University in 2001. He began teaching at Goshen College in 2000, after working as an editor at the New York Times for three years.
Stoltzfus will be holding a book signing at Better World Books in Goshen on Dec. 6 during Goshen's First Fridays event.
"Pacifists in Chains" is available at the Goshen College Bookstore, Better World Books in Goshen and online for $29.95.
—By Kelley Scholfield