Expanding the sound pool: celebrating Professor Emerita of Music Mary Oyer's 90th birthday
By President Jim Brenneman, adapted from his remarks on April 20, 2013 at a campus birthday celebration weekend event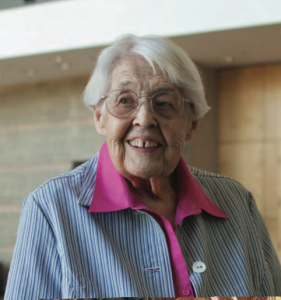 I have always thought that to celebrate one's birth is one of the more significant days on the Christian calendar. To do so, is to celebrate the gift of life, that is, the prevenient, undergirding, substantive grace that is our unique, matchless and – if one
looks around the vast and barren universe – our rare life. That we arrived on this, the third planet from the sun, is an awesome fact worth celebrating!
Our day of birth is also a celebration of the One who created us, signs of audacious hope in the face of entropy, loss, sin and death. Birthdays are glorious occasions worthy of gratitude and celebration and remembrance. And so, we celebrate the birth and four score and ten years of the life of Dr. Mary Kathryn Oyer '44, unique, matchless and rare, indeed, a sign of God's amazing grace.
MARY, AESTHETIC INCARNATION
The two most influential people in my life when it comes to my aesthetic appreciation and knowledge of art and music are my
wife, Terri, and Dr. Mary. As a first generation college student who never went to a symphony or visited an art museum until I came to Goshen College, I was pretty experientially illiterate when it came to fine art and a musical repertoire of any depth. Unless, of course, you call an album of the "Nickel Family Singers" on the religious side of the spectrum and rock-n-roll on the other side of the spectrum as having depth. That all changed when I took the fine arts class called "The Aesthetic Experience," taught by Dr. Mary Oyer.
From Monet to Dali, from Renoir to Delfin, I have never walked through an art gallery any where in the world since, or ever sat spell-bound in a symphony hall, that I have not been aware that I carry within me a lot of Mary's aesthetic appreciation, having become my own.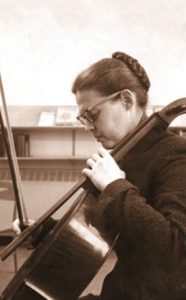 MARY, CONTRARY REVOLUTIONARY
Van Gogh once said, "Great paintings do not happen by impulse, but by brush strokes deliberately brought together." If the masterpiece we are painting of Goshen College becoming a World House of Learning in fact, not simply in word, then certainly one of the most revolutionary brush strokes in reaching that goal has been Mary's challenge to the musical and artistic orthodoxies of her time. To the degree that hymnody was and still is the high bar of the Mennonite musical canon, then to have expanded the "sound pool" (as she calls it) of Mennonite music to include world music, in and out of the church, has been a phenomenal paradigm shift. Revolutionary! Like all paradigm shifts, we speak of Mennonite music, "Before Mary Oyer" and "After Mary Oyer."
Much of what we do on campus, and rightfully so, is to teach and learn and work things out cognitively, logically, critically, structurally, efficiently, skillfully and methodically. We sometimes even sing our hymns perfectly, though we all too rarely weep in the singing. Those days are changing.
Mary Oyer's passionate quest and openness to expanding the musical canon, the "sound pool," of the Mennonite church and of Goshen College to be more than mere perfect imitation will prove to be, in my estimation, one of her greatest legacies. I see and hear the soul of Mary alive in almost every concert I come to at Goshen College. Most times, I leave these concerts breathless.
And, I truly believe that as we become even more ethnically diverse at all levels of the institution, the visual and factual impact of that diversity – if we are truly changed by such a new ever deepening emotional register – will be seen and felt as the true "heart and soul" of Goshen College.
Places like St. Olaf College's musical programs are inevitably held up as a high water mark for Christian colleges and musicians, as judged by the canons of western classical musicianship. As they should be. Would that Goshen College someday surpass that high bar, as we will. However, let us not do so by becoming more like them. Rather, let us do so by out-mastering them in the revolutionary spirit of Maestro Gustavo Dudamel of the Los Angeles Philharmonic.
What might happen if Goshen College fully embraced the revolutionary spirit of Dudamel, who is selling world and classical music to packed out and ever more diverse and younger crowds? Clearly, his style is very much akin to the revolutionary character of Dr. Mary in how she went about expanding the musical repertoire beyond the standard canon here and in the church. Mary coached us into the revolution one song at a time, long before many had even contemplated doing so and at a time when it was tempting to stay within the boundaries of standard musical orthodoxy. Mary paid a price for such courage, as a woman, as a musician, as a forerunner
to heralding a more passionate, fully formed and felt world musical canon. That was risky business then, and still may be. However, when that day comes when we are the admiration of others for our unique blend of embodied diversity, our soulful repertoire – and that day is coming – we will look back with an even deeper appreciation of the revolutionary midwifery of Dr. Mary Oyer in reviving GC's musical heart and soul, that is, its spiritual core.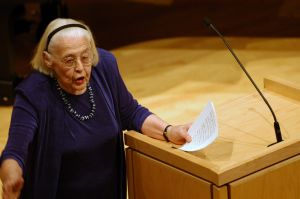 MARY, RABBONI, MY TEACHER
Let me finish with a memory of my first class at GC. It was a colloquium with Dr. Oyer. There were just 12 to 15 of us. It was, to my knowledge, her first experiment in teaching African arts here at GC after her year-long sabbatical in Africa. You could say we were her 'guinea pigs.' I had no idea, at the time, how unusual such a class was on campus.
Each student was assigned a class project and I chose to build from scratch a wooden marimba patterned after one Mary brought back from Africa. It involved finding the right wood, drying it and carving it in lengths to make different tones, tying it together and so on. Well, I tried drying it by putting my finished instrument in a dorm oven, but the string caught on fire and I more or less charred and burned major pieces of my project. I still managed to pull it out in time to save my behind and my grade. What a way to begin my college career. Even at that, it was one of my favorite GC classes of all time. I could not wait to take the fine arts class from Mary and I never looked back. I was hooked.
Mary, you are a master teacher, my musical and aesthetic Rabbi. Your teaching is a contagion, one that embodies the GC core value "passionate learner." I'm guessing you were one of the prototypes for why that value was selected as core to a GC educational experience. Simply put, you have always been a passionate learner and that passion comes through every time you teach. You have inspired generations of students, faculty, staff and many, many others – some of whom have gone on to great careers in music, others who emulate you in the classroom – and all who appreciate you profoundly.
Your impact on GC and the church has stood the test of time. You are a living pioneer in helping lead the college into becoming the World House of Learning we aspire to be. If Mennonites canonized saints, you would have my nomination. St. Mary. Dr. Mary. Revolutionary Mary. Contrary Mary. Rabbi Mary. Mary Kathryn Oyer. By any name, you are a unique, matchless and rare gift to the world. We thank you.