Musical performance will explore Mennonite stories from the Paraguayan Chaco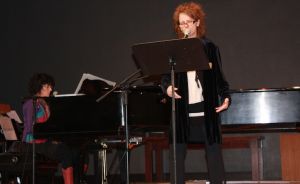 Performance: Paraguay Primeval
Date and time: Tuesday, Oct. 29, 7:30 p.m.
Location: Goshen College Music Center's Rieth Recital Hall
Cost: Free and open to the public
Goshen College will host a musical work titled "Paraguay Primeval," a collection of stories and images by Carol Ann Weaver. Based on the extraordinary story of Mennonites moving to Paraguay from Canada in order to retain their own schools, and from Russia to flee the Stalinist regime, the show follows their attempt to find a new "Promised Land" in the uninviting Paraguayan Chaco. The show will take place in the Music Center's Rieth Recital Hall and is free and open to the public.
Enhanced by a multi-media presentation that adds a visual dimension, the performance includes eleven original songs inspired by poets and fiction writers who recorded the Mennonite Paraguayan experience. Exquisitely performed by acclaimed soprano Rebecca Campbell and accompanied on piano and vocals by the composer, Carol Ann Weaver, this performance draws listeners into a world of beauty, sorrow, hardship and grace. The performance will be followed by a reception. CDs will be available for purchase and signing. CD proceeds will go toward work in support of indigenous people in the Chaco.
"My brief visit to the Chaco in July, 2009, following the Mennonite World Conference in Asuncion, Paraguay, was a moving experience," Weaver said. "What stole my heart, while travelling to these colonies, was a sense of incredible dedication to this new land as voiced by these Mennonites in their strong singing. I was particularly struck by a statue of a woman behind a plow, representing women who had lost their husbands during Stalin years in Russia."
In 1926, about 1,200 Canadian Mennonites moved to Paraguay in order to retain their own schools. From 1930 onward they were joined by Russian Mennonite refugees fleeing the Bolshevik Revolution, the Stalinist regime and intolerable situations within the Soviet Union. Once in Paraguay, these Mennonites settled in the Chaco area, described as a "Green Hell" due to arid land, inhabited by few indigenous peoples. The Mennonites suffered typhoid and other illnesses, but nevertheless built colonies, grew crops and maintained livestock, while creating schools, churches, hospitals and industries which lured back many indigenous peoples. The desert brought forth new life.
About the Artists
Carol Ann Weaver, eclectic composer/pianist, creates music that blends many genres, energies, styles and spirits, often colored by her fascination with African music. Her music has been performed and aired throughout Canada, the United States and parts of Europe, Korea, Paraguay and Africa. Her genre-bending music blends classical, jazz, avant garde and folk, resulting in new fusions of roots and art music. While in Africa she has frequently played and recorded with South African jazz artists. Critics laud her work for blending of cultural voices and its embrace of varied styles. Her CDs, Paraguay Primeval, Every 3 Children, Thistle & Jewel, Dancing Rivers, Journey Begun and Daughter of Olapa, deal with African, Canadian and environmental themes, and Awakenings, her collaborative CD with Rebecca Campbell, sets to music poetry of Di Brandt and Dorothy Livesay. She is a music professor at Conrad Grebel University College/University of Waterloo and a former professor at Wilfrid Laurier University. Having led two Sound in the Lands Festival and conferences at Grebel/UW, she is organizing a third one at UW, Sound in the Land – Music and the Environment for June 5-8, 2014.
Rebecca Campbell is one of the most evocative vocalists in Canada, whose versatile musicianship, combined with uncanny vocal sensibilities, gives her a uniquely compelling voice. A Canadian treasure, she has done extensive touring and recording on her own and in support of many artists, including Jane Siberry, Porkbelly Futures, Justin Haynes, Fat Man Waving, Three Sheets to the Wind, Lynn Miles, Ian Tamblyn and Carol Ann Weaver. She has performed across Canada, the United States, Europe and Trinidad-Tobago. Her CDs, "The Sweetest Noise" and "Tug," have received high critical acclaim in Canada and abroad. Her music, which is emotionally rooted, intimate, impressionistic and full of surprises, betrays a disregard for idiomatic boundaries, a love of words and a penchant for the sweet and sad.