Garrison Keillor will spend an evening at Goshen College Oct. 15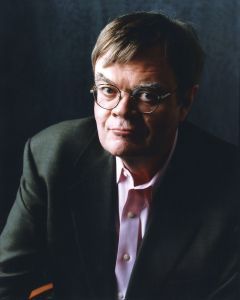 Performing Arts Series Concert: An evening with Garrison Keillor
Date and Time: Tuesday, Oct. 15, at 7:30 p.m.
Location: Goshen College Music Center's Sauder Concert Hall
Cost: SOLD OUT
For more information: Call (574) 535-7566 or email welcomecenter@goshen.edu
Website: prairiehome.publicradio.org
On Tuesday, Oct. 15, one of the most popular American storytellers of all time, Garrison Keillor, will return to Goshen College for the first time since 1985.
Keillor will share hilarious anecdotes about growing up in the Midwest, the people of Lake Wobegon and "late-life fatherhood." Best known for his popular radio show, A Prairie Home Companion, Keillor is a best-selling author, humorist and captivating speaker who combines poignant storytelling with a wonderfully dry sense of humor.
In January 1985, Keillor visited Goshen College as part of the S.A. Yoder Memorial Lecture Series. He read from his then-new book, "Lake Wobegon Days," to a packed Church-Chapel, saying that he felt at home among the Mennonites, "the shyest religious group in America."
THIS SHOW IS SOLD OUT. To add your name to a waiting list, contact the Goshen College Welcome Center by calling (574) 535-7566, or emailing welcomecenter@goshen.edu.
The Goshen College Performing Arts Series debuted on Sept. 21, 1997. Since then, the college has hosted more than 100 concerts by some of the world's greatest performers as part of the program.