Goshen College history comes to life in "Gadfly: Sam Steiner Dodges the Draft"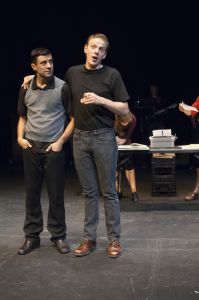 Sam Steiner is a quiet, retired librarian and archivist who spent 34 years working at Conrad Grebel University in Canada. Yet, his past can be described as anything but quiet. An activist, war resister and former student at Goshen College, Steiner's personal struggle with pacifism is brought to life in the play "Gadfly: Sam Steiner Dodges the Draft."
Based on the true story, the play is set in 1960s Goshen and Chicago. It follows the early life of Sam Steiner: growing up in a conservative Mennonite community in Ohio, his journey to Goshen College and ultimately how he dodged the draft for the Vietnam War.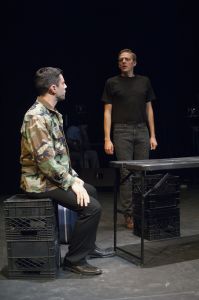 "The sixties were a turbulent time, and the Goshen campus and community were not exempt from this social upheaval," said Doug Liechty Caskey, professor of theater at the college. "This is a unique opportunity to experience a live theater production that is not only performed in Goshen, but is the setting for the play as well."
In the play, his involvement with Menno-Pause, an underground student newspaper, gets him expelled from the college, thereby losing his student exemption from the draft. Rather than register as a conscientious objector, he goes underground and eventually crosses the border to Canada. The story follows both his physical and spiritual journey during the civil rights movement and Vietnam War.
Performed by Theatre of the Beat, a traveling theater group based out of Waterloo, Ontario, "Gadfly" was performed twice during Homecoming Weekend in Goshen College's Umble Center.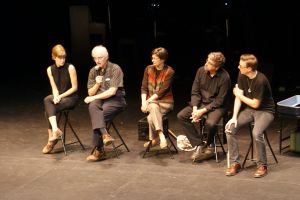 Not only did this story return home to Goshen for the first time, but the cast was joined by special guests Sam and Sue Steiner, who participated in a post show Q&A following each performance.
Rebecca Steiner, a student at the University of Waterloo, was commissioned by Conrad Grebel University to write the script as part of her drama studies. In order to tell his story, she interviewed Sam Steiner and his wife Sue, who still live in Waterloo. She also conducted research at the Mennonite Archives of Ontario, housed at Conrad Grebel University.
She describes Gadfly as "one man's journey to pacifism" against a backdrop of social and political turmoil encompassing the Vietnam War, hippie counterculture and the civil rights movement. The play premiered in April 2012 at the Conrad Centre for the Performing Arts in Kitchener, Ont., and has been performed several times since.
The cast of four University of Waterloo graduates includes Rebecca Steiner, John Wideman, Kim Walker and Ben Wert. Since their founding in 2011, the troupe has produced five original plays and has performed over a hundred shows across Canada and in the United States.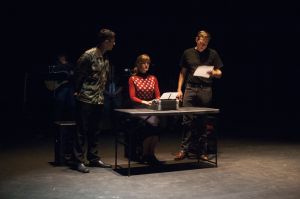 A live band provided the soundtrack for the show. Performing on stage, the band played music that helped define the era, including songs from Gram Parsons and the Flying Burrito Brothers, Bob Dylan and Creedence Clearwater Revival.
For more information on the troupe or production contact Johnny Wideman, artistic director, at (416) 725-6452, email johnny@theatreofthebeat.com, or visit www.theatreofthebeat.com.