Music Center debuts inaugural Rieth Chamber Series concert lineup
The Goshen College Music Center will debut a new concert series featuring chamber music and organ concerts on GC's Opus 41 pipe organ. The 2013-14 series will feature six concerts by outstanding chamber music ensembles and organists, plus a bonus concert and reception for series subscribers only.
"Series subscribers and supporters will provide support for ongoing, accessible classical chamber music at Goshen College, as well as aid in establishing a reputation with performing artists for appreciative Music Center audiences," said Marcia Yost, Music Center executive director. Series subscriptions are currently being accepted.
The 2013-14 series includes: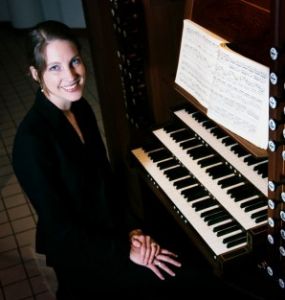 Sunday, September 15, 4 p.m. – Rieth Recital Hall
Organ concert by Carrie Groenewold
Carrie Groenewold will open the 2013-2014 Rieth Chamber Series with an inspiring program of organ works by Bach, Sweelinck, Mendelssohn and others on Rieth Recital Hall's magnificent Taylor and Boody pipe organ. A native of the Midwest, Groenewold received degrees in both organ and church music at Dordt (Iowa) College and also at the University of Notre Dame. She is currently organist at First Presbyterian Church in Lawrence, Kan.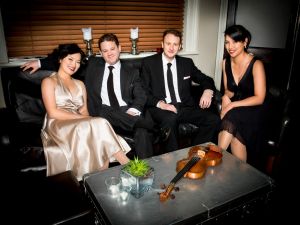 Friday, October 25, 7:30 p.m. – Sauder Concert Hall
Villiers Quartet, London
At the forefront of innovation and creativity in chamber music, the UK-based Villiers Quartet (VQ) has become known for their masterful interpretations of works by English composers such as Edward Elgar and Frederick Delius. They hit worldwide acclaim last year after launching the first online VQ New Works Competition, reaching a global audience that voted online for three finalists, one of which was GC composition student, Henry Stewart. Henry's piece "Threnody/Images" will be performed at Villier's Goshen concert.
Sunday, January 26, 4 p.m. – Rieth Recital Hall
Ft. Wayne Philharmonic Chamber Music Players
The Fort Wayne Phil extends its chamber music prowess to Goshen, bringing accomplished woodwind, piano and string players who will perform chamber works spanning three centuries. Featured works will include Britten's 1932 Phantasy Quartet, Mozart's 1786 Kegelstatt Trio, and Dvorak's 1888 String Quintet in G, Op. 77 — each piece exciting and unique and offering a window to the world of its time.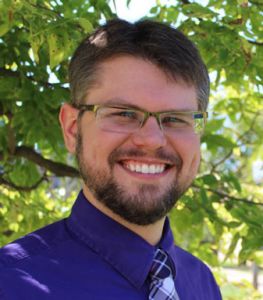 Sunday, February 9, 4 p.m. – Rieth Recital Hall
Organ concert by Daniel Bayless
Daniel Bayless, organist at the University of Notre Dame Basilica of the Sacred Heart, is set to perform an exciting recital of varied organ works on GC's Taylor & Boody pipe organ. Bayless has studied organ, harpsichord, carillon and choral conducting and holds degrees in organ performance from the University of Kansas as well as the University of Notre Dame, where he studied with Dr. Craig Cramer.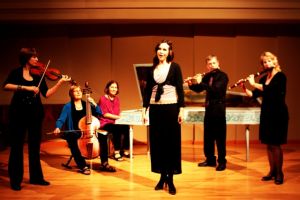 Sunday, April 13, 4 p.m. – Rieth Recital Hall
Fleur de Lys Baroque Ensemble
For nearly two decades, Fleur de Lys has performed with clarity and precision on original instruments of the 17th and 18th centuries. Seeking to emulate the purity of tone valued by musicians of that time, the ensemble includes founding members Darlene Catello on harpsichord and Mary Anne Ballard on viola da gamba, along with soprano Danielle Svonavec, baroque flutist Korin Schilling and baroque violinist Tamara Albahari.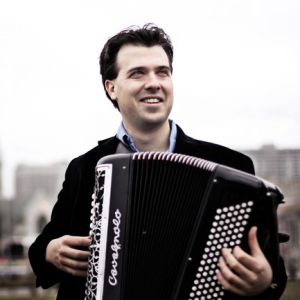 Saturday, May 17, 7:30 p.m. – Sauder Concert Hall
Julien Labro, bandoneonist with Spektral Quartet, Chicago
Spektral Quartet, one of the nation's fastest-rising young string quartets and ensemble-in-residence at The University of Chicago, returns to Goshen with accordion and bandoneon phenom Julien Labro, playing a fun and fiery program of South American jazz and tangos. The Sauder Concert Hall audience will be treated to an evening of amazing virtuosity and creativity by this spectacular collaboration.
Rieth Chamber Series subscribers will also be rewarded with a special bonus concert and dessert reception: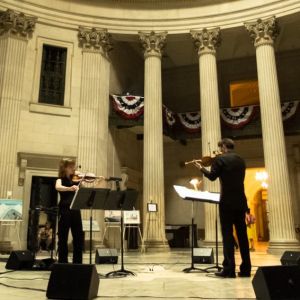 Saturday, February 15, 7:30 p.m. – Rieth Recital Hall
Violinists Amy Kauffman and Cornelius Dufallo, New York
Hailing from NYC, husband and wife violin duo Amy Kauffman and Cornelius Dufallo will perform for sponsors of this year's chamber series. Amy has been a member of the Metropolitan Opera Orchestra since 2002, and Neil is in demand as an innovator in the contemporary music scene. Both graduates of The Juilliard School, they perform frequently in chamber ensembles and festivals across the country. While growing up near Goshen, Amy studied violin and piano with then GC professors, Lon and Kathryn Sherer.
Series subscriptions, which include tickets to all six concerts, plus the bonus concert and dessert reception, are now being accepted. The six-show ticket packages are $120. Subscription forms can be found online at www.gcmusiccenter.org/concerts/riethseries. For questions about ticket availability, pricing, reservations and more, contact the Welcome Center at (574) 535-7566 or email welcomecenter@goshen.edu. The Welcome Center is open Monday-Friday from 9 a.m. – 3 p.m.  Tickets to individual concerts will be for sale as available via the Welcome Center, online at www.goshen.edu/tickets, or at the door.
For more information about the concert series or the performers, please contact the Goshen College Music Center Main Office at (574) 535-7361 or visit www.gcmusiccenter.org/concerts/riethseries.