Goshen College announces 2013-14 Performing Arts Series lineup
The 2013-14 season of the Goshen College Performing Arts Series will again bring extraordinary and top quality arts performances to the college, including Garrison Keillor, The Wailin' Jennys, the Vienna Boys Choir and Pink Martini.
The line-up was publicly announced on Tuesday, April 23 at the final concert of the 2012-13 season by Lea Salonga. Initial reservations were available immediately following the concert, and season package tickets formally go on sale to the public Wednesday, April 24 at 9 a.m. at the college's Welcome Center.
The 2013-14 line-up: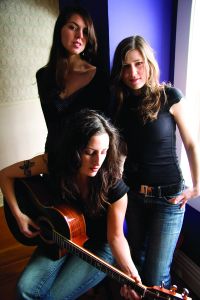 Friday, Sept. 20, 2013 at 7:30 p.m.
The Wailin' Jennys
Back on the series by popular demand, the Juno award-winning Wailin' Jennys are three extraordinary women whose beautiful, heart-stopping harmonies, uplifting repertoire and engaging stage presence delight and charm audiences. Their acoustic blend of bluegrass, folk and roots music has been featured on A Prairie Home Companion and alongside Bonnie Raitt and Roseanne Cash. The Jennys' album, Firecracker, spent more than 30 weeks in the Top 5 on the Billboard Bluegrass chart.
Non-package ticket pricing: $40, $35, $23
Tuesday, Oct. 15, 2013 at 7:30 p.m.
An evening with Garrison Keillor
Enjoy an evening with one of the most popular American storytellers of all time! Returning to Goshen College for the first time since 1985, Garrison Keillor will share hilarious anecdotes about growing up in the Midwest, the people of Lake Wobegon and "late-life fatherhood." Best known for his popular radio show, A Prairie Home Companion, Keillor is a best-selling author, humorist and captivating speaker who combines poignant story telling with a wonderfully dry sense of humor.
Non-package ticket pricing: $65, $60, $45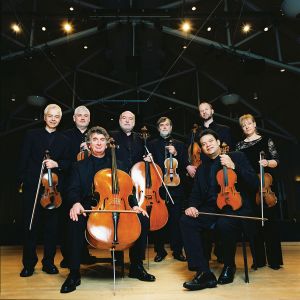 Saturday, Nov. 2, 2013 at 7:30 p.m.
Academy of St. Martin in the Fields Chamber Ensemble
"Compelling grandeur … masterful," raves BBC Music Magazine about these eight stellar string musicians who have enchanted audiences and critics worldwide with their rich, polished sound and remarkable artistry. The Academy of St. Martin in the Fields Chamber Ensemble was created in 1967 to perform larger chamber works – from quintets to octets. This gifted ensemble draws from the principal players of the orchestra who regularly work together, using their camaraderie to enhance and elevate their level of musicianship.
Non-package ticket pricing: $40, $35, $23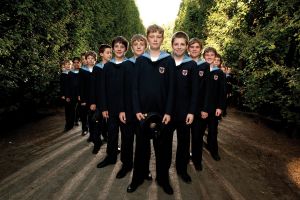 Friday, Nov. 22, 2013 at 7:30 p.m.
Vienna Boys Choir
The world's most beloved boys choir will be appearing for the first time in Sauder Concert Hall. Centuries after being founded by Emperor Maximilian I in 1498, the angelic voices of the Vienna Boys Choir continue to delight music-lovers across the globe with their purity of tone, distinctive charm and a diverse, crowd-pleasing repertoire that encompasses Austrian folk songs and waltzes, classical masterpieces, beloved pop songs and more.
                                                                        Non-package ticket pricing: $44, $40, $28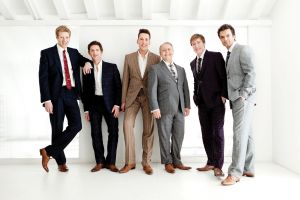 Friday, Jan. 31, 2014 at 7:30 p.m.
The King's Singers
Instantly recognizable for their spot-on intonation, impeccable vocal blend, flawless articulation, and incisive timing, the Grammy Award-winning a cappella vocal ensemble The King's Singers will make their return to Goshen. Having sung and toured the world for 41 years and compiled a discography of more than 150 recordings, these incredible singers are consummate entertainers, charming audiences with a delightful British wit along with their stunning vocal performance.
Non-package ticket pricing: $44, $40, $28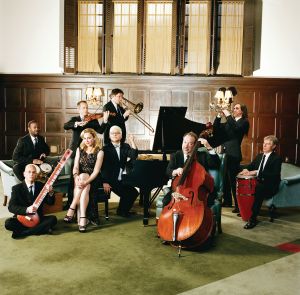 Friday, March 14, 2014 at 7:30 p.m.
Pink Martini
Since bursting onto the scene in 1997 with the jazzy album Sympathique, this Oregon-based "little orchestra" has gained a national following with an upbeat multilingual repertoire of classical, Latin, jazz, pop and big band music. Led by pianist Thomas Lauderdale, the band has performed with more than 50 orchestras, and collaborated with such artists as Rufus Wainwright, Carol Channing, Saori Yuki and the cast of Sesame Street.
Non-package ticket pricing: $50, $45, $30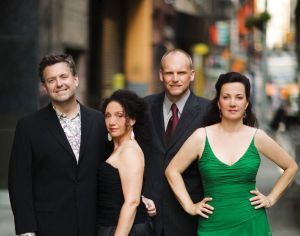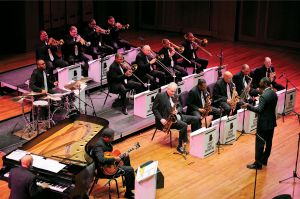 Saturday, April 5, 2014 at 7:30 p.m.
The Legendary Count Basie Orchestra featuring New York Voices
The Count Basie Orchestra and New York Voices will unite to recreate the magic that won them the 1996 Grammy Award for their inspired collaboration, Live at Manchester Craftsmen's Guild. Despite Basie's passing in 1984, his orchestra has remained a force in jazz music and has won 17 Grammy Awards. The Voices, celebrating their 25th anniversary, are known for their inspired arrangements and unparalleled vocal blend.Non-package ticket pricing: $44, $40, $28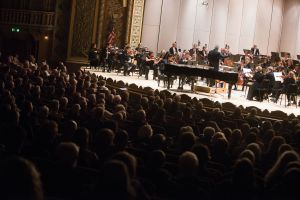 Friday, April 11, 2014 at 7:30 p.m.
Fort Wayne Philharmonic
Led by its mission to inspire and foster a lifelong love of classical music through performance and education, the Fort Wayne Philharmonic will present a dazzling program that will include Barber's First Symphony, A Concerto for Flute and Clarinet by Puckett and Beethoven's beloved Fifth Symphony. Performing since 1924, the "Phil" is led by Music Director Andrew Constantine, and is known as a leader in the region for promoting the arts.
                                                                               Non-package ticket pricing: $33, $30, $18
This year's regular series season ticket includes six concerts. Four performances are set for each season ticket: Garrison Keillor, Vienna Boys Choir, Pink Martini and the Fort Wayne Philharmonic. Those buying the basic season ticket package then can choose the additional two performances, one each from these two pairs of contrasting shows: The Wailin' Jennys / The Academy of St. Martin in the Fields Chamber Ensemble; The King's Singers / The Legendary Count Basie Orchestra featuring the New York Voices.
The six-show ticket packages are discounted 10-15 percent over individually priced tickets: $250 for A section seats (value $276), $220 for B section seats (value $250) and $150 for seats in the C section seats (value $172). Anyone can also create a seven or eight-show package that includes either or both of the remaining shows at an additional cost.
Season tickets go on sale to the public on Monday, April 24. A nonrefundable deposit of $20 per seat will hold season tickets and seat preference. Full payment is due July 15. Seats will be assigned according to the date received. Individual tickets, if available, will go on sale Monday, Aug. 5 at the Welcome Center and online at www.goshen.edu/tickets.
For information about ticket availability, prices, reservations and more, contact the Welcome Center at (574) 535-7566 or e-mail welcomecenter@goshen.edu. The Welcome Center is open Mondays-Fridays from 9 a.m.-3 p.m.
Seating for those with disabilities is available and the minimum age of attendees is 5 years old. Tickets are nonrefundable.
The Goshen College Performing Arts Series debuted on Sept. 21, 1997. Since then, the college has hosted more than 100 concerts by some of the world's greatest performers as part of the program.