College to celebrate iconic music professor Mary Oyer's 90th birthday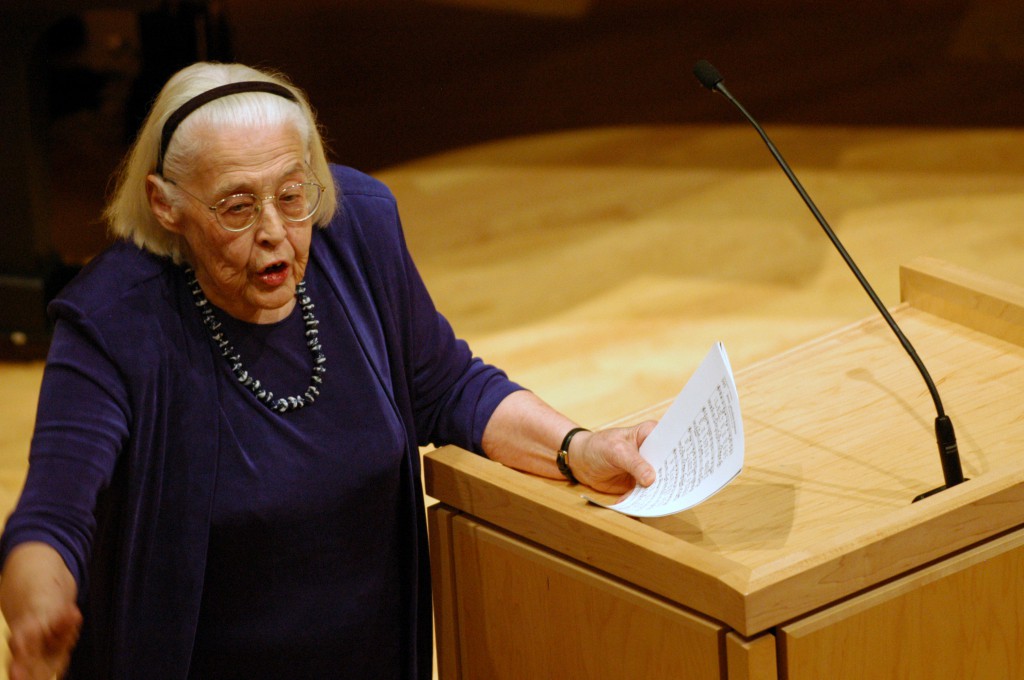 Event: Goshen College Professor Emerita of Music Mary K. Oyer's 90th Birthday Celebration
Date: April 19 and 20
Locations: Goshen College Music Center and College Mennonite Church
Website: www.gcmusiccenter.org/mko
She has played a key role in the publications of two Mennonite Hymnals and numerous song books, collected and recorded traditional music in 22 African countries and has nurtured the musical gifts of countless students in a lifetime of teaching. This month, Goshen College Professor Emerita of Music Dr. Mary K. Oyer turned 90.
Goshen College will celebrate this milestone during a weekend of music and programs. The celebration will begin on Friday, April 19, with a Goshen College Symphony Orchestra concert in the Music Center's Sauder Concert Hall. The weekend will continue on Saturday, April 20, with a hymn sing, discussions on Oyer's work in Africa and an African-themed dinner, culminating with an evening program with an address by Oyer, music by the GC Women's World Music Choir, hymn singing led by Eastern Mennonite University Professor of Music Dr. Kenneth Nafziger (1963 Goshen College alumnus and former student of Oyer's), and a performance by the Goshen College String Quartet.
"This celebration gives us the opportunity to show Mary the community of love and appreciation that surrounds her, and to celebrate how she has made our lives richer," said Deb Brubaker, professor of music at Goshen College and a former student of Oyer's. "As a professor at Goshen, she affected the lives of hundreds of students who have taken her Arts and Music classes. She is a professor who teaches the whole person, using the arts as a guide."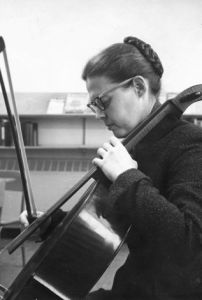 After growing up in Goshen and graduating from Goshen College in 1944, Oyer began teaching music and visual arts at Goshen College in 1945. During her summers, she studied cello at the University of Michigan in Ann Arbor, where in 1958 she became the first ever string player to earn a Doctor of Musical Arts performance degree from the university.
Oyer taught at Goshen College until 1987, during which time she developed a Fine Arts course that became legendary among students and was instrumental in bringing wide recognition and acceptance of the fine arts in a Mennonite liberal arts education. After she "retired" from Goshen College, she continued teaching for another 10 years at Associated Mennonite Biblical Seminary (Elkhart, Ind.) as professor of church music, and then taught for five years at Tainan Theological College and Seminary in Taiwan. She has also served as a visiting professor at Kenyatta University in Kenya. To this day, she still teaches some of the largest and most popular courses in the college's Lifelong Learning Institute for older adults.
"Her standards as an educator are legendary; she pushed students further than they thought possible to become thoughtful and informed listeners," said Beverly Lapp, chair of the music department at Goshen College. "Today's music department thrives in good measure because of those who led before us, and celebrating 90 years of Mary Oyer's remarkable life is important to our ongoing commitment to music at Goshen College."
With a history of being a trailblazer, Oyer is credited with ushering in two revolutions in Mennonite worship. The first was her emphasis on the fine arts while teaching at Goshen College, the second was her gift of bringing the sacred music of other cultures into the Mennonite Church.
Oyer is recognized as being integral in shaping what Mennonite music sounds like today. She was instrumental in gathering hymns and songs for the widely used 1969 and 1992 Mennonite hymnals, and for more than six decades has taught those hymns to the wider church in myriad worship settings, including national conventions and world conferences. She is well known for her role in helping establish the hymn "Praise God From Whom," better known as "606," as the Mennonite "anthem" after she led it in 1969 at the churchwide assembly in Oregon.
"The Mennonite Church sings as well as it does in large part due to Mary's efforts of 'enlivening' hymnody. She has been at the forefront of bringing cross-cultural hymns to our canon of singing, opening our eyes to the wider church and its worship styles," said Brubaker.
Her interest in ethnomusicology began in 1969, when Oyer travelled to Africa through a Fulbright grant. Following that experience, she spent many more summers over the next two decades in Africa, experiencing African music firsthand and recording regional music in 22 different countries. The 150 tapes from these visits have now been digitized and, along with various musical instruments that Oyer collected during her travels, are part of the Mary K. Oyer African Music Archive at Goshen College.
In 2006, A book titled Nurturing Spirit through Song: The Life of Mary K. Oyer and a DVD titled Nurturing Spirit Through Song: The Legacy of Mary K. Oyer were produced to record Mary's contributions to the Mennonite Church.
In honor of Oyer's 90th birthday, guests are invited by the Goshen College Music Department and Music Center to take part in these events to recognize her extraordinary life and legacy:
Friday, April 19
7:30 p.m., GC Symphony Orchestra Concert, Music Center's Sauder Concert Hall
In addition to an exciting program of orchestral favorites, a Brazilian piece chosen for this occasion by Associate Professor of Music Christopher Fashun, and birthday cake for all in the Music Center Lobby highlight the evening. Admission $7 adult $5 seniors and students, GC students free.
Saturday, April 20
1 p.m., Hymn sing, Music Center's Rieth Recital Hall
GC professor of music Debra Brubaker, dean of Anabaptist Mennonite Biblical Seminary Rebecca Slough, and GC organ instructor Kevin Vaughn will lead a community hymn sing.

2:30 p.m., Discussion: Musical Instruments as a Window to African Culture, Music Center's Rieth Recital Hall
Mary Oyer and ethnomusicologist Roderic Knight will discuss the history and cultural value of musical instruments in Africa while demonstrating various types.

4 p.m., Discussion: Mary Oyer African Music Project, Music Center's Rieth Recital Hall
2012 GC alumna Lisa Horst and Mary Oyer will discuss and explain the Mary Oyer African Music Project and its accompanying displays in the Music Center Lobby.

7:30 p.m., Celebration program, Music Center's Sauder Concert Hall
This finale program will feature an address by Mary, singing by the GC Women's World Music Choir, hymn singing led by Eastern Mennonite University professor of music Dr. Kenneth Nafziger and others, and a performance by the Goshen College String Quartet. Tickets are $5; free for all students.
For more details about the weekend's activities, visit www.gcmusiccenter.org/mko.