National Public Radio correspondent to speak at 115th commencement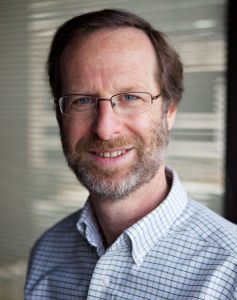 Dan Charles, a food and agriculture correspondent for National Public Radio (NPR), will be the speaker at Goshen College's 115th commencement on Sunday, April 28 at 3 p.m. in the Roman Gingerich Recreation-Fitness Center. His speech is entitled "Searching for what's real in a digital world."
This year there are 244 undergraduates and 16 master's degree candidates scheduled to receive diplomas at commencement.
---
Check out the graduation webpage for a full schedule of events and other helpful information about graduating and Commencement Weekend.
---
Since 2011, Charles has reported for NPR on the culture, business and science behind food. His passion for storytelling has followed him as he's reported on mosquitos, digital maps, sugar beets and fixed-gear bikes.
Before working at NPR, Charles was an independent radio producer and writer. He contributed articles on technology, public health, environment and education to magazines including National Geographic, New Scientist and Scientist.
In 2009-10, Charles taught journalism in Ukraine through the Fulbright program. He is the author of two books:  Master Mind: The Rise and Fall of Fritz Haber, The Nobel Laureate Who Launched the Age of Chemical Warfare (Ecco, 2005); and Lords of the Harvest: Biotech, Big Money, and the Future of Food (Perseus, 2001) about the origins of genetically engineered crops.
Charles grew up in a rural Mennonite community near Lancaster, Pa. He received a bachelor's degree in economics and international affairs from American University in 1982. He lives in Washington, D.C. with his wife, Brigid McCarthy, and two daughters. They attend Community House Church.
Schedule of Goshen College's 115th Commencement Weekend activities:
Saturday, April 27
1:30 p.m. – Nurses' Pinning Ceremony, Church-Chapel
2-5 p.m. – Department receptions – graduates and families meet informally with professors (exact times and locations to be announced by departments)
7:30 p.m. – Senior Class Program, Music Center's Sauder Concert Hall
8:45 p.m. – President's Reception for graduates and families, Music Center lobby
Sunday, April 28
11 a.m. – Baccalaureate service, with address by President James E. Brenneman, Church-Chapel
3 p.m. – 115th Annual Commencement Ceremony, with address by Dan Charles, Roman Gingerich Recreation-Fitness Center (no tickets needed) 
-By Becca Kraybill