Journalist Simran Sethi to speak about food, faith and the environment on March 19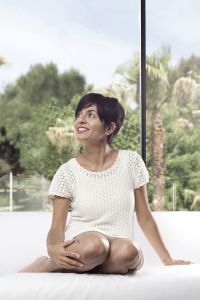 Yoder Public Affairs Lecture: Award-winning journalist Simran Sethi to speak on "Bridging Divides through Food, Faith and the Environment"
Date and time: Tuesday, March 19 at 7:30 p.m.
Location: Goshen College Music Center's Rieth Recital Hall
Cost: Free and open to the public
Website: www.simransethi.com
Award-winning journalist and educator Simran Sethi will present a Goshen College Yoder Public Affairs Lecture on Tuesday, March 19 at 7:30 p.m. in the Music Center's Rieth Recital Hall. Sethi's lecture, titled "Bridging Divides through Food, Faith and the Environment," is free and open to the public.
Sethi teaches and reports on sustainability, environmentalism and social media for social change. In her lecture she will explore the intersection of food and faith, explaining the evolution in farming and looking at how transgenic seeds and food relate to Christian tenets of fruitfulness, life-affirmation and distributes.
Named "the environmental messenger" by Vanity Fair & a "top ten eco-hero of the planet" by the UK's Guardian, Simran is dedicated to a redefinition of environmentalism that uses innovative forms of engagement and includes voices from the prairie, urban core and global community. Simran has contributed numerous segments to NBC Nightly News, CNBC, PBS, "The Oprah Winfrey Show" and "The Today Show," and has been featured on Sundance Channel, MSNBC and the History Channel.
Simran is currently the Kelly Distinguished Scholar-in-Residence at St. Catherine University, the largest women's college in the United States. She also works with NGOs on brand development, social media training and citizen journalism outreach, and is a senior communications advisor to the Center for Environmental Health.
The Frank and Betty Jo Yoder Public Affairs Lecture Series is an endowed lectureship that was created for Goshen College in 1978 by Frank (1917-1996) and Betty Jo Yoder of Goshen. The goal of the series is to enable faculty, students and community to hear well-known speakers address current issues.