Sophomore wins peace oratorical contest speaking about Laos' unexploded bombs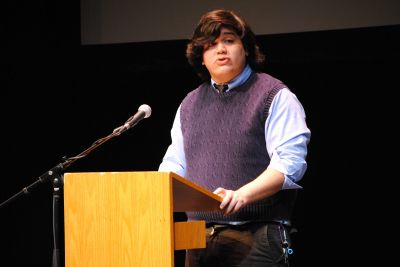 Speaking on "Laos' history of war: The need for UXO removal," Goshen College sophomore Jacob Putnam, from Chicago, Ill., placed first in Goshen College's 2013 C. Henry Smith Peace Oratorical Contest on Feb. 19.
Putnam, who has family members living in Laos, highlighted the dangers of UXOs, or unexploded ordnances, in Laos. From 1964 to 1973, the United States dropped more than two million tons of bombs on Laos, many of which are still active, Putnam said.
With "less than one percent of UXOs disabled," the ordnances have killed over 20,000 citizens since the bombing stopped, he said.
Putnam said that the United States only spends $3.1 million a year to disable the weapons, despite spending $17 million a day when dropping them on Laos for almost nine years.
Putnam, a sociology and Spanish double major, called the audience to build awareness and take action by signing a petition against UXOs at www.legaciesofwar.org/petition.
As the winner, Putnam received $500 and a chance to enter his speech in the bi-national oratorical contest.
Runner-up Abby Deaton, a sophomore communications and psychology major from Indianapolis, spoke on "Making peace with warriors." Deaton informed the audience of the rising need for healthcare for returning soldiers and veterans.
Particularly for persons who are anti-war, Deaton had a request. "I ask one thing," she said. "Stop seeing the military, start seeing the person."
Third place runner-up Mara Weaver, a senior history and secondary education major from Bloomington, Ill., spoke on "The price of incarceration: Private prisons in the U.S." Weaver described the politics of business and financial incentive that drive many private prisons.
"The intentions [of private prisons] need to be exposed," Weaver said. "Just because it's legal does not make it right."
Marcelle Al-Zoughbi, a senior TESOL major from Palestine, spoke on "Please don't invest in Palestine's oppression." She called audience members to be cautious of companies that invest in the Israeli government.
"The brutal, violent, tragic occupation will continue with investment," Al-Zoughbi said. "We must vote with our money and our voices."
Jeffrey Moore, a senior Bible and religion major from Ashland, Ohio, spoke on "Tribalitis: Curing the disease of polarization." Moore described the dangers of joining communities that only confirm, not challenge, one's ideology.
"We must stop thinking the worst of each other to create peace," Moore said.
The judges for the contest included Anne Hershberger, professor emerita of nursing; Phil Waite, College Mennonite Church pastoral leader; and Bob Yoder, campus pastor. Pat Lehman, professor of communication, and Jair Hernandez, a senior public relations major, directed the contest.
Speech contests have been part of Goshen College's history since the early 1900s; the C. Henry Smith contest allows the campus community to hear more about relevant, contemporary issues. For an archive of past winners, visit www.goshen.edu/communication/about/contest.
-By Becca Kraybill