Art exhibit to display Hershberger's Mennonite 'iconography'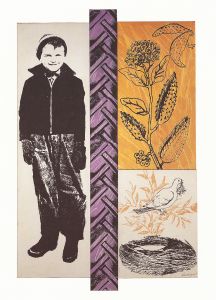 Art exhibit: "Heritage Works" by Goshen College Professor Emeritus of Art Abner Hershberger
Exhibit dates: Feb. 10-March 28
Reception: Sunday, Feb. 10 from 2-4 p.m.
Location: Goshen College's Good Library Gallery
Cost: Free and open to the public
Sponsors: Mennonite-Amish Museum Committee
Goshen College Professor Emeritus of Art Abner Hershberger will showcase his art exhibit titled "Heritage Works" in the college's Good Library Gallery from Feb. 10 to March 28. An opening reception will be held there on Feb. 10 from 2-4 p.m.
"Heritage Works" includes 33 paintings that explore symbols of Mennonite farm life and living. Several paintings feature objects of a traditional Mennonite agrarian community – a row of bobby pins, plain coats and a John Deere tractor. Other works, like a painting of a necktie offset by bright colors, display contrasting "worldly" symbols.
Hershberger's exhibit pulls from his experience as the ninth of 10 children raised on a farm in Fargo, N.D. Hershberger writes that his "life and world view were strongly influenced by farm work, reliance on family and a strong identity with the church community."
One day in 1991, Hershberger was driving through Illinois and recalled a photo of his father dressed in a plain coat. The image inspired him to create a show of "Mennonite iconography," a documentation of both heritage and memory. Hershberger writes that the icons attempt to show the "directness, truth telling and simplicity" of Mennonite communal living.
The paintings are produced with black and white photos from Hershberger's family albums that were enlarged to create industrial-sized negatives. The negatives were then screen-printed onto canvas and painted in a monochromatic style, forming a simple but modern effect.
Hershberger taught painting and printmaking in the Goshen College Art Department from 1965-99. He received a master of fine art degree from the University of Michigan and has showcased over 20 solo shows. His work can be viewed at www.abnerhershberger.com.
The Good Library Gallery, located on the lower level of the Harold and Wilma Good Library on the campus of Goshen College, is open from 8 a.m. to 11 p.m. on Monday through Thursday, 8 a.m. to 5 p.m. on Friday, 1 to 5 p.m. on Saturday and 3 to 11 p.m. on Sunday. Hours vary during academic breaks, summer and holidays. For gallery hours, call (574) 535-7418.
-By Becca Kraybill