Notre Dame's Philpott to speak on reconciliation in politics on Feb. 5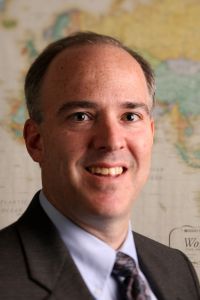 Yoder Public Affairs Lecture: "Reconciliation in Politics? On the Meaning of Justice in the Wake of Massive Injustice" by Daniel Philpott, associate professor of political science and peace studies at the University of Notre Dame's Kroc Institute for International Peace Studies
Date and time: Tuesday, Feb. 5 at 7:30 p.m.
Location: Goshen College Music Center's Rieth Recital Hall
Cost: Free and open to the public
Daniel Philpott, associate professor of political science and peace studies at the University of Notre Dame's Kroc Institute for International Peace Studies, will present Goshen College's Yoder Public Affairs Lecture on Tuesday, Feb. 5 at 7:30 p.m. in the Music Center's Rieth Recital Hall. Philpott's lecture, titled "Reconciliation in Politics? On the Meaning of Justice in the Wake of Massive Injustice," is free and open to the public.
Philpott has studied international relations, political philosophy, religion and peace studies. However, Philpott's research lies mainly in reconciliation. In his latest book, "Just and Unjust Peace: An Ethic of Political Reconciliation," Philpott looks at reconciliation at a global level. He poses that the traditional peace-building approach taken in the United Nations and western governments will not bring healing to communities experiencing injustice. Instead, Philpott calls for a reconciliation approach grounded in Christianity, Islam and Judaism that embraces justice, mercy and peace.
Philpott combines the worlds of activism and scholarly work to embody his vision for reconciliation. Though he has published works in The American Political Science Review and The Journal of Democracy, he also trains political and religious leaders in reconciliation in Burundi and Africa through the Catholic Peacebuilding Network. Philpott also directs a research program on religion and reconciliation at the Kroc Institute.
Philpott received his doctorate from Harvard University. His first book was "Revolutions in Sovereignty: How Ideas Shaped Modern International Relations" and he has edited "The Politics of Past Evil: Religion, Reconciliation, and Transitional Justice."
The Frank and Betty Jo Yoder Public Affairs Lecture Series is an endowed lectureship that was created for Goshen College in 1978 by Frank (1917-1996) and Betty Jo Yoder of Goshen. The goal of the series is to enable faculty, students and community to hear well-known speakers address current issues.
– By Becca Kraybill