Spanish radio show focuses on education for Michiana Latinos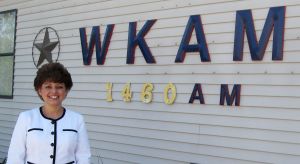 Para ver éste artículo en español presione aquí
A twice-a-month radio show brings a focus on education to the Latino Community in Michiana. "Destino Latino de Goshen College," sponsored by Goshen College's Center for Intercultural and International Education, is a 10-minute segment in Spanish that celebrates educational opportunities from kindergarten to college.
Spanish-speaking families can listen to the show by tuning in to La Mejor (1460 AM) at 1 p.m. on the first and third Thursday of the month for practical advice and information about K-12 education and college preparation. Persons from Goshen College and Goshen Community Schools alternate Thursdays as guests. The goal of the show, which began airing this fall, is to provide Latino families support on the process of sending their children to college, and to increase the number of Latino students who go to college.
Program host and Goshen College Multicultural Outreach Community Liaison Rocio Diaz said, "I want to make sure parents know the steps required to prepare and send their kids to college. As a Latina, I know you have to talk with the parents to get the students to go to college. I tell them how important a college education is to succeed in the United States. I hope parents will plant a seed in their child's mind that it's not enough to graduate from high school anymore. In addition, I want to develop a trusting relationship with community Latino families in viewing college as an option for their children."
Recent shows have offered interviews with educational leaders and down-to-earth advice. The topics covered have included:
Technology in schools, how to read a report card and why parent/teacher conferences are important (from Goshen Community Schools) and
Why Latinos should go to college, which is the best college for you, how to prepare for college, and how to pay for college (from Goshen College).
"The program instructs the Latino community about education in the United States with the purpose of advancing the community," said Dr. Rebecca Hernandez, Goshen College Associate Dean for Intercultural Development & Educational Partnerships.
The program airs the first and third Thursday of the month at 1 p.m. at 1460 AM, or online at www.lamejor1460am.com.