Chicago-based Spektral Quartet coming to Goshen Jan. 18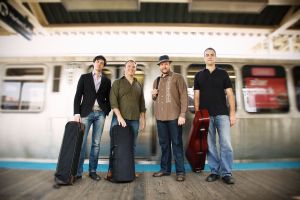 Visiting Artist Recital: The Spektral Quartet
Date and time: Friday, January 18 at 7:30 p.m.
Location: Goshen College Music Center's Rieth Recital Hall
Cost: $7 adults, $5 seniors/students. Admission to this concert is FREE to all students. Tickets available one hour before the concert.
The Spektral Quartet, one of the nation's fastest-rising young string quartets and the ensemble-in-residence at the University of Chicago, returns to Goshen College Music Center on Friday, Jan. 18 for a program of quartets by Mozart, Verdi and Hugo Wolf in Rieth Recital Hall at 7:30 p.m.
Spektral violinist Austin Wulliman, a Goshen native, received musical training as a youth in the Goshen College Strings Preparatory Program, a forerunner of what is now the Community School of the Arts.
With its innovative programming consistently filling venues with a "crowd that other classical presenters would kill to attract" (Chicago Classical Review), the Spektral Quartet has established itself as one of Chicago's most intrepid and adroit ensembles. With a priority on evaporating the perceived boundary between traditional masterworks and the music of the present, Spektral concerts feature the likes of Beethoven and Mozart alongside Carter and Adés.
Hailed by Time Out Chicago as having "forged a reputation for fiercely on-point performances as well as some of the city's most imaginative chamber programming," the Spektral Quartet continues to close the distance between performer and audience member. As bold advocates for Chicago's dynamic new music scene, Spektral recently produced Break Right Through That Line, a concert featuring works by Northwestern University faculty composers and their protégés.
Sharing personal insights and often-humorous rehearsal anecdotes from the stage are a hallmark of Spektral's traditional-format concerts. Rather than focusing on the facts and figures commonly found in program notes, this interaction offers audiences a more intimate concert-going experience through the imaginative narratives and aural cues delivered by the quartet. The Spektral Quartet is equally committed to training the next generation of chamber musicians, and as pedagogues, are in demand in the academic arena, having been invited by Northwestern University, Illinois State University and The University of Wisconsin-Milwaukee to perform, present workshops and lead masterclasses. The Spektral Quartet was appointed ensemble-in-residence at The University of Chicago in the 2012/2013 season.
The quartet's Friday concert and Saturday coachings of young musicians in the Music Center's Youth Honors Orchestras are presented in part through the Lon and Kathryn Sherer Preparatory Music Endowment, honoring the Sherer's combined 60 years of teaching music at Goshen College.