Ceramicist Gregg Luginbuhl presents exhibit at Goshen College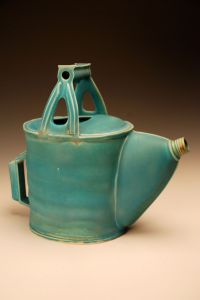 Art exhibit: "Recent Directions" by Gregg Luginbuhl, ceramics
Location: Goshen College Music Center's Hershberger Art Gallery
Exhibit dates: January 20 – March 4
Exhibit reception: Sunday, Jan. 20 from 2-3:30 p.m., followed by an artist lecture
Cost: Free and open to the public
The Goshen College Music Center's Hershberger Art Gallery will be featuring Bluffton (Ohio) University Professor of Art Gregg Luginbuhl's recent ceramic work in a new exhibit from Jan. 20 to March 4. An exhibit reception will be held Sunday, Jan. 20 from 2 to 3:30 p.m., with an artist lecture following. The exhibit and reception are free and open to the public.
Luginbuhl will be displaying pieces that represent the recent directions his work has taken, including a series of rustic decanters inspired by the "ubiquitous metal containers still found in rural environments." As well, he will be displaying ceramic vessels, a series of fish sculptures entitled "Feeding Frenzy" and a series of glass pieces.
Luginbuhl has exhibited pottery and ceramic sculpture in more than 150 regional and national exhibitions, and his work is included in many public and private collections nationwide. He has received many awards and his work is included in five Ohio museum collections. His exhibition record includes one-person shows in seven states, and he has been the juror for eighteen regional exhibitions.
Luginbuhl received a Master of Fine Arts degree in ceramics from the University of Montana in 1975, following a bachelor's degree from Bluffton. He began teaching in 1984 at Bluffton and is now also chair of the Art Department.