Lon and Kathryn Sherer endowment brings Chicago-based Spektral Quartet to Goshen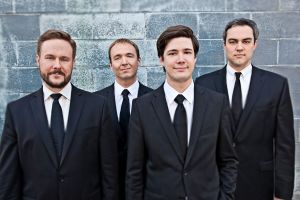 Visiting Artist Recital: The Spektral Quartet
Date and time: Friday, January 18 at 7:30 p.m.
Location: Goshen College Music Center's Rieth Recital Hall
Cost: $7 adults, $5 seniors/students. GC faculty/staff/students free with ID. Tickets available one hour before the concert.
The Spektral Quartet, one of the nation's fastest-rising young string quartets and the ensemble-in-residence at the University of Chicago, returns to Goshen College Music Center on Friday, January 18 at 7:30 p.m. for a program of quartets by Mozart, Verdi and Hugo Wolf in Rieth Recital Hall.
Spektral violinist Austin Wulliman, a Goshen native, received musical training as a youth in the Goshen College Strings Preparatory Program, a progenitor of what is now the Community School of the Arts. He also attended Goshen College before receiving degrees from Northwestern University and the University of Michigan.
Spektral's Friday concert and Saturday coachings of young musicians in the Music Center's Youth Honors Orchestras are presented in part through the Lon and Kathryn Sherer Preparatory Music Endowment. It carries on the legacy established through their more than 60 combined years of teaching music, most of them at Goshen College. In addition to college teaching, Lon and Kathryn taught hundreds of pre-college students; Lon in violin and Kathryn in piano. Throughout their careers, they were advocates for making music accessible to young people. The activities of this endowment will continue to support their interests of accessibility and excellence in pedagogy in the life of the Goshen College Community School of the Arts.
Lon Sherer and Kathryn Summers met as college students at Michigan State University in the early 1950's. Throughout their marriage, their music-making was a shared life work, first at Woodstock School in Mussoorie, India (1956-59) and then at Goshen College (1959 onward). In the early 1960's Lon earned his Doctorate in Music Performance from the University of Michigan. Kathryn earned her Masters in piano performance from Southern Methodist University in 1979.
Lon and Kathryn arrived at Goshen College at a time when interest in instrumental music was beginning to expand at the college and more generally in the Mennonite Church. Their energy and creativity helped raise music-making at Goshen College to new heights and spurred programmatic innovations. Lon built up the college orchestra, expanded the WGCS classical music collection, brought recorders, early music and opera to the college, and started high school music week. Kathryn, along with John T. O'Brien, launched the piano pedagogy program and the annual piano workshop. In 1979 Lon studied with Shinichi Suzuki and later founded the GC string preparatory program, incorporating the tenets of the Suzuki method into his teaching of children and youth from the community.
In addition to their lives as performers, as teachers Lon and Kathryn gave uncommon attention to the learning process and how students achieve mastery of their chosen instruments. During their careers, they studied and worked with master teachers such as Frances Clark, Kato Havas, George Sebok, John Owings and Shinichi Suzuki, ultimately becoming master teachers in their own right.
Lon continues to connect in various ways to the musical life of the Goshen community. Kathryn died this past February from pulmonary fibrosis. Their life-long interests in seeing musicianship developed to a high level in young students, and in promoting excellence in ensemble music-making will be honored in these events.