Music Center again offers music classes for young children in Elkhart County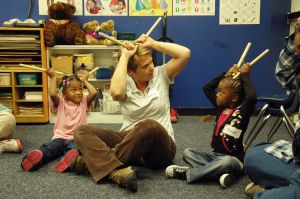 The Goshen College Music Center is offering a new term of Music Together® classes in various locations in Elkhart and Goshen beginning in early January 2013 in an effort to bring the joy of singing and music learning to children.
Music Together® is a research-based method for developing basic music competence in children. It accomplishes this through singing and movement to songs and chants, drawing on a wide variety of cultures and styles. In Music Together®, children attend a weekly 45-minute class with a parent, grandparent or other caregiver, and receive a songbook and professional CD for home listening. Classes are taught by a trained professional and take place in various locations throughout Elkhart County.
Music Together® classes will be held at the following locations in Elkhart County beginning the week of Jan. 7, 2013:
Greencroft Retirement Center, Evergreen Place (Goshen)
Goshen College Music Center (Goshen)
LifeCenter/First United Methodist Church (Goshen)
Chamberlain Elementary School (Goshen)
Waterford Crossing Senior Village (Goshen)
Prairie Street Mennonite Church (Elkhart)
Tuition for the ten-week course is $150 for the first child. Siblings may attend for an additional $20 per child. Included are a new songbook and CD and all class sessions. Patrons are encouraged to register as soon as possible to ensure enrollment in your preferred class.
Need-based scholarships are available to any family whose income qualifies them for free or reduced lunch in the Federal Free or Reduced Lunch program. The Music Center is committed to making this program available to every family who would like to participate.
To register, or for additional information, including specific class schedules and locations, please contact the Music Center Office at (574) 535-7361 or visit the GC Music Center website.